This page highlights the differences between Mangetsu Kibaoni and Brax,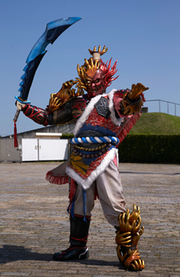 Differences
| Mangetsu Kibaoni | Brax |
| --- | --- |
| Based upon the full moon. | Based upon hands and a barbarian. |
| Son of Gengetsu Kibaoni. | Never encountered Galvanax as far as we know. |
| Able to fire fire from his hands. | Unable to fire fire from his hand. |
| Signature attack is his Supreme Fang - Mangetsu Slash (牙凌道・萬月斬 Garyōdō Mangetsuzan). | Signature attack is lightning his sword on fire and throwing energy flames at his enemies. Attack where he summons a wave of shadows and energy blades was only used once. |
| Half brother to Kyuemon Shingetsu Kibaoni. | Not related to Madame Odius and just served her. |
| Boss of Masakage Tsugomori. | General Tynamon was his manager. |
| Son of Ariake no Kata. | Lover of Badonna. |
| Created monsters such as Super Advanced Yokai Shuten-douji . | Never created any . |
| Creator and master of Super-Advanced Youkai Shuten-douji. | Friend of Gorrox. |
| Was able to be destroyed by the Strongest Ninja Sword Ninja Gekiatsuto because it was a former demonic weapon he had never encountered before. | Was vulnerable to the SuperStar Blade because it was more powerful than him. |
| Fought the Ninningers several times. | Fought the Ninja Steel Rangers only three times (only two of which involved a battle against all six). |
| Left the battle with the Gashadokuros because he was offended at Masakage and Kyuemon's interference and left to confront them. | Left the battle with the Skullgators because he wished to see the Rangers killed from the luxery of the Dome Ship. |
| Destroyed by the Ninningers in a combined finishing move after the failure of Shuten-doji. | Grew immediately after joining Gorrox so was not destroyed twice. |
| Enlarged himself with Kyumon's hammer. | Enlarged by Cosmo Royale. |
| Said nothing when enlarged either time. | Growled when enlarged for the first time and answered Gorrox's question for what to do now they were giant for the second time (crush the Rangers). |
| Final words were directed at the Ninninger mentor and not his mother. | Final words were directed at Badonna and not Mick. |
| Final words before death were him telling the old man that Mangetsu couldn't defeat the Ninningers. | Final words were him apologising to Badonna for not killing the Rangers and dying in the process. |
| Resurrected temporarily. | Remained destroyed and has never returned. |
| Destroyed for the second time by the Simultaneous Exploding Shock Slash. | Destroyed for good by the Ninja Blaze Ultrazord. |
| Final words before final death were him calling his mother an old hag for being a "useless shield" and then calling out "mother" as they died. | Final words never differ from his original final words. |
Community content is available under
CC-BY-SA
unless otherwise noted.