This page highlights the differences between the Gosei Power Releasement Vessel Tensouder and the Gosei Morpher.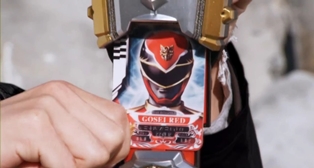 Differences
| Tensouder | Gosei Morpher |
| --- | --- |
| Is of earthen origin. Made and used by Gosei Angels to utilize their elemental powers. | Is of alien origin. Made by the alien Gosei and given to normal humans. |
| Is loosely modeled after Master Head. It's name has no relation to Master Head, but rather to the Rangers' nature as angels. | Looks exactly like and is named after Gosei. |
| The Goseigers call "Change Card, Tensou!" when transforming. | The Megaforce Rangers call "It's Morphin' Time! Go Go Megaforce!" when morphing. |
| Says "Gotcha" every time it's opened. | Doesn't say anything when it's opened. |
| The Tensouder snaps shut while saying, "Change Goseiger" | The Gosei Morpher just snaps shut |
| No Goseiger designation during the transformation | The team shout their Megaforce designation during the morphing sequence |
Community content is available under
CC-BY-SA
unless otherwise noted.