This page highlights the differences between Dairen'oh and Thunder Megazord.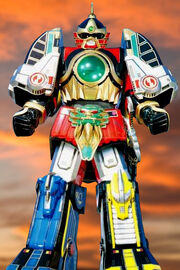 Differences
| Dairen'oh | Thunder Megazord |
| --- | --- |
| Mecha are non-mechanical sentient beasts called Chi Beasts, which are based on creatures of Chinese mythology. | The Thunderzords are fully robotic constructs, displaying no sentience whatsoever. The Zords themselves are based on creatures from western mythology. |
| RyuSeiOh, the red Dragon mecha fought on its own for the first five episodes. The rest of the Chi Beasts appeared in the sixth episode. | All five Thunderzords appeared together during their debut. |
| Its combined form appeared in episode 8. | The Thunder Megazord was formed immediately after the Thunderzord's debut. |
| Has no ties to Daizyujin and the Guardian Beasts, as they are separate entities. | The Thunderzords are upgraded forms of the old Dinozords. |
| Lion is the Green Ranger's mecha. | Lion is the Black Ranger's mecha. |
| The Lion was able to perform a special illusion technique that could confuse its victim. | The Lion did not seem to possess any offensive ability on its own. |
| Blue mecha is based on a pegasus. | Blue zord is based on a unicorn. |
| Yellow mecha is based on a qilin. | Yellow zord is based on a griffin. |
| Has the Dai Javelin, a speared polearm combined from Sei Houou's tail with the RyuSeiOh's staff. | The use of a javelin was cut out from the MMPR episodes, but was included in the American toy versions. |
| Never fought against Guardian Beast Dragon Caesar. | Battled the Dragonzord when it was controlled by Tom Oliver (which was achieved through splicing together footage). |
| Reappeared 50 years into the future to help the future Dairangers fight a renewed Gorma threat. Did not battle against Gashadokuro. | Was destroyed by Rito Revolto at the start of the third Mighty Morphin Power Rangers season. |
| Is the only giant robo named as such. | Shared a name with Thunder Megazord (Ninja Storm). |
| Fought alongside Muteki Shogun, Daizyuzin, and two preceding Sentai Team mecha during Super Sentai World. Also contributed its power to help defeat Lost Highness Rakushaasa, a battle in which Mythical Chi Beast RyuseiOh also participated. | Never fought alongside Zords from other series, and the Megazord was the only Megazord to proceed the Thunder Megazord. |
| Took part in the mecha battle against Black Cross Colossus and joined Engine-O and Gekisou Gattai RV Robo against Crime Minister Yogoshimacritein. | Was not involved in Legendary Battle or any confrontations with the Venjix Virus. |
Community content is available under
CC-BY-SA
unless otherwise noted.