This page highlights the differences between Escape and the avatar Roxy.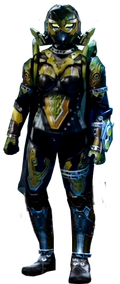 Escape Evolve
Cybervillain Roxy
Differences
| Escape | Roxy |
| --- | --- |
| Escape debuted in the 22nd episode of Go-Busters while her Escape Evolve form did it 15 episodes later. | Roxy debuted in the first episode of Beast Morphers along with her Cybervillain form. |
| Escape's suit is a 'monster transformation' and can change at will. Is in purple. | Roxy's suit is a Ranger form and has a Morpher. Is in olive greenish yellow. |
| Escape calls Messiah "Papa" because she sees him as her father. | Roxy calls Evox by his name and only sees him as her master. |
| Escape uses two blasters named Gock and Magock. | Roxy uses most of the times one nameless blaster. She can be seen from time to time carrying two. |
| Escape is an original Vaglass avatar created from the data of Transport Research Center scientists, with Michiko Sakurada being one of them. | Roxy is an avatar of Evox created solely from Roxy as the duplicate of the intended Yellow Ranger. |
| Is Ryuji Iwasaki's rival because Escape wanted to have a good fight with him. | Is Ravi Shaw's girlfriend's evil "clone" |
| Has an arrogant, bubbly, and overbearing personality. | Has an arrogant, manipulative, and cunning personality. |
| Destroyed by her own corrupted coding. | Destroyed by Ravi's Beast X Blaster. |
| Derezzed out of existence. | Exploded in a massive purple explosion that unleashed a shockwave strong enough to knock over Ravi, |
| Never appeared in the opening | Although Liana Ramirez does not get a credit, Roxy appears in a shot with Nate (both unmorphed) in opening 2 of season 1 |
Community content is available under
CC-BY-SA
unless otherwise noted.