This page highlights the differences between Darkness King Gill and Triskull.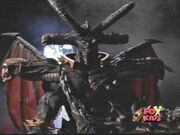 Differences
| Darkness King Gill | Triskull |
| --- | --- |
| Was the eldest son of the Psyma Family, exiled for attempting to murder his own mother but returning with the Grim Reapers seeking to unleash the Infernal Dark Hell Beast, But he never met Space Pirates Balban. | Was a Demon in charge of the Ghouls apparently known to Prince Olympius who claimed to be serving him but was in fact collecting energy for Trakeena. |
| Was loyal to no one, except for himself, and he never met Captain Zahab or Steerwoman Shelinda. | Was loyal to no one, except for Trakeena. |
| Captured humans in order to sacrifice them in a ritual to accomplish his mission. | Captured humans in order to drain their life force. |
| Was defeated by the Gingamen and GoGoFive working together, but committed suicide to use his own blood to complete the ritual. | Was destroyed by the Galaxy Rangers and Lightspeed Rangers. Olympius used a special poison to complete Trakeena's empowerment, but warp her into a mindless beast. |
Community content is available under
CC-BY-SA
unless otherwise noted.