This page highlights the differences between Choju Gattai OhBlocker and Super Zeo Megazord.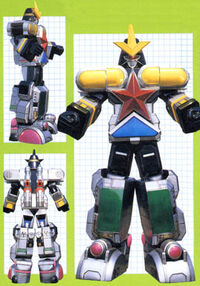 Differences
| Choju Gattai OhBlocker | Super Zeo Megazord |
| --- | --- |
| Was comprised of man-made robots that were constructed not long after Riki arrived in the present. Did not require KingRanger's power to activate them. | An ancient machine whose components were turned into gems and eventually revived by the Gold Staff. |
| Required for the Ohrangers to master the sword art of helm-splitting to unite their hearts before they could use the finisher move "Twin Blocken Crash". | The Zeo Rangers did not require any training before using Super Zeo Megazord in its first battle, instead requiring a part that Jason was able to retrieve for them. |
| The information extracted from OhBlocker's computers by Baranoia led to the discovery of the location and subsequent invasion of the U.A.O.H. headquarters. | No information was ever taken by the Machine Empire and the reason for the invasion of the Zeo Zord Holding bay on one occasion was never explained. |
| Was captured by Machine Empire Baranoia during the finale of Chouriki Sentai Ohranger but freed by Gunmazin. | Wasn't captured by the Machine Empire during the finale of Power Rangers Zeo, and couldn't have been freed by Auric the Conqueror due to Auric's previous disappearance. |
| Was piloted by KingRanger in the final battle. | Was never piloted by the Gold Ranger. |
Community content is available under
CC-BY-SA
unless otherwise noted.