Spider-Man: No Way Home Trailer Dropped - The Loop
Play Sound

This article is about a/an series entry (the 12th) in the Super Sentai series.
| | |
| --- | --- |
| | WARNING: This series contains scenes of blood, bloodshed, graphic violence, gun violence, body horror, murder and character deaths. Viewer discretion is advised! |
Choujuu Sentai Liveman (超獣戦隊ライブマン, Chōjū Sentai Raibuman, translated into English as Super Beast Squadron Liveman) was the 12th season of the Super Sentai series. It was produced by Toei Company and aired on TV Asahi from February 27, 1988 to February 18, 1989. This season holds the distinction of being the first anniversary season as well as the first series with an animal motif.
Liveman was released in Republic of Korea as Peace Warrior Liveman (평화의 전사 라이브맨 Pyeonghwaui jeonsa Laibeumaen) and in Spain as "Bioman".
The average ratings of the series was 10.5%.[1]
Plot
"Friends, why have you sold your soul to the devil!?"
―Narrator
This series takes place on Academia Island, which is both a location and a school for scientists. One day, Academia's three finest students, Tsukigata, Senda, and Omura felt their talents were being wasted at Academia and left. They accepted a position in the evil organization Volt. On the night of their departure, their former classmates Yusuke Amamiya, Jou Ohara, Megumi Misaki, Takuji Yano, and Mari Aikawa saw them leaving on a space ship. When asked where they were going, Tsukigata drew a gun on the five, killing Takuji and Mari.
Prior to the pair's deaths, Takuji and Mari were working alongside Yusuke, Jou, and Megumi in creating a suit strong enough for space exploration. They had made substantial progress on the night that they were murdered. One of the professors at the school, Professor Hoshi, pitched in to help them complete their original ambitions. Hoshi was also worried that Volt would begin attacking people, and thus helped out to prepare against a future assault.
Two years later, Academia launched a shuttle for space exploration. However, a mysterious ship appears and downs the shuttle; Yusuke, Jou and Megumi are among the few survivors. They discover that Tsukigata, Senda, and Omura were responsible for the destruction of the shuttle. As a result, Yusuke, Jou, and Megumi took up the powers of the original project, becoming Liveman to battle against their former classmates and Volt.
Later in the series, they are joined by Tetsuya and Jun'ichi, the younger brothers of the late Takuji and Mari.
Characters
Liveman
Allies
Arsenal
Mecha
Legend:◆ piloted mecha, ➲ carrier mecha
Episodes
Songs
Opening theme
Ending theme
"

Ashita ni Ikiru ze!

" (

あしたに生きるぜ!

"Live on to the Future!")
Mecha themes
Insert themes
Character themes
Cast
Voice actors
Suit Actors
Stage Shows
Toyline
Notes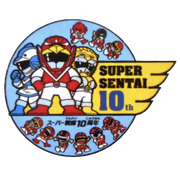 Along with its successor, Turboranger, Liveman celebrates the anniversary of the Sentai franschise. An anniversary logo was created, and Daisuke Shima and Megumi Mori (who both were extremely popular singers at the time) were cast as special appearance for the anniversary. Although Liveman is the twelfth series, at the time of the series' debut, it was the tenth series, as Gorenger and JAKQ weren't counted as Super Sentai until 1995. Both series celebrated the tenth anniversary of Super Sentai as Liveman was the tenth series and Turboranger aired ten years after the then-first series, Battle Fever J.
This series introduces the following firsts in Super Sentai:

The first to feature a female Blue Ranger.
The first to feature both a Black Ranger and a Green Ranger in the core team as opposed to interchanging with one or another.
The first to have a Super Fusion Robo, Super Live Robo.

This season and Ninpuu Sentai Hurricaneger are notable for sharing similar concepts: both teams start off as a team of three with later members joining and both are themed and have mecha tied after the same three animals: a bird, a dolphin, and a lion.
This is the first Sentai season where the mecha is patterned after animals, although not true animal mecha, being vehicles patterned after animals (such as a jet themed after a falcon, a land crawler themed after a lion, and a submarine themed after two dolphins). Mecha actually based on animals would not become more standard until Kyoryu Sentai Zyuranger.
Liveman is the very last Sentai to be credited as part of the "Showa period", both in Japanese and Sentai history. In actual terms, it is the last series to air during the reign of Japanese emperor Hirohito (also known as "Showa"), who died on January 7, 1989 (with six episodes left to air). In Sentai terms, Liveman is considered a cut-off point due to many of the changes and adjustments to the franchise to come after this series.
Jouji Nakata (Great Professor Bias), Yutaka Hirose (Doctor Kemp/Kenji Tsukigata), and Yoshinori Okamoto (Doctor Ashura/Arashi Busujima) are castmates in Choushinsei Flashman.
The scene of a puppy on a skateboard that appears in the opening sequence appeared in episode 34 (during a montage of Hikaru and Momoko/Pink Mask's date) in the previous series, Hikari Sentai Maskman.
External links