Cobra Kai Season 4 - The Loop
Play Sound
| | |
| --- | --- |
| | This ranger is also known as the Mystic Titan (zord), Mystic Garuda |
| | |
| --- | --- |
| | This ranger is also known as the part of the consciousness of the zord, Mystic Lion |
Charlie "Chip" Thorn (b. 1988) is the Yellow Mystic Ranger of the Mystic Force Power Rangers.
History
Nightmares and Dreams
Udonna continued to study the magic in the Xenotome. During one spell; she sees a vision of the Phoenix and the hope of the future... the Mystic Force Power Rangers!.

COMIC STORY- Mighty Morphin Power Rangers Anniversary Special Issue 1
Mystic Force
Chip is the self-proclaimed "Superhero Expert". Chip is considered a little odd as he loves fairy tales and phases in and out of reality, and repeatedly wore a superhero costume to high school and even to the prom. He was deemed by Madison as "the perfect example of a non-human species".
Chip is a fantastic archer, a member of the chess club at school, and a part of COUNTV - Containment Of Underworld Nocturnal Transylvanian Vampires.
Chip had no problem believing in magic and accepting his destiny as a Mystic Ranger. Chip is always cheerful and eager to learn all he can about magic.
Despite their wildly different personalities, Chip has been close friends with Vida ever since she stuck up for him when they were children. When she was turned into a vampire, he showed a far more serious and intense side in his attempts to save her, including taking on Koragg and Necrolai by himself, thus shows that they share a close bond.
Necrolai had cursed Chip with a soul specter, which starts to swallow him from the inside. Chip joined Daggeron on a trip to the dreaded Mount Isis to be freed from the spell. They get the Staff of Topaz and reversed the curse. Daggeron decided to train Chip on how to be a knight.
Chip and the Rangers gets trapped in an alternate reality where the Rangers never existed. They go to the Tribunal of Magic for help, and they later undid everything and gained new armor.
Mystical Battle
During the final battle, Chip aided his fellow Rangers in using their combined magic to destroy the Master. Later, he was last seen telling fictionalized tales of his battles as a Power Ranger to ladies from both realms.
Super Megaforce
Chip and the other Mystic Rangers returned as part of the army of Legendary Rangers that helped the Mega Rangers defeat the Armada once and for all, fighting in a huge battle against hundreds of X Borgs and dozens of Bruisers.

TV STORY-Legendary Battle

Super Ninja Steel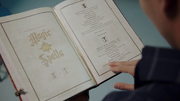 When Preston Tien read The Encyclopedia Of Magic & Spells is given to Preston Tien by Mick Kanic,The book contains a small bio on Chip Thorn and the others Mystic Rangers ,Chip was mentions by book as one of the magicians who defeated Octomus the Master.

TV STORY-Tough Love

Beast Morphers
He was shown along with the other Mystic Rangers when the villains were looking for a past villain to revive with the Reanimizer, and came across Koragg The Knight Wolf.

TV STORY-Making Bad

Split History
Shattered Grid
Teaming up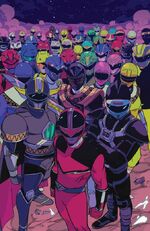 When events set into motion by Lord Drakkon caused the timeline to split into pocket universe, each anchored on a powerset, the Mystic Rangers were split off into their own pocket universe. Green Mystic Ranger eventually received Zordon's call through the Morphin Grid and was among numerous Rangers who rallied to his pocket dimension led by the Quantum Ranger for the last stand against Lord Drakkon, reunited in the Command Center.

COMIC STORY- Mighty Morphin Power Rangers (Boom! Studios) Issue 29
Battle on the moon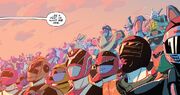 Chip along with the other Rangers their morphers are upgrade by Doctor K , he along with the other Mystic Rangers drive Titan Megazord and prepared amoung other rangers
to teleported in the moon of world of coinless for the fight against Drakkon against his Ranger Sentries led by Jason Lee Scott during the battle Chip interacting with Gia Moran the Super Megaforce Ranger in doing so (while Charlie was also morphed), she takes briefly his Ranger form for part of the battle against Mastodon Sentries, also in the momento when Drakkon drains all powers of the morphers Chip battle against Koeagg atop the enemy ship.

COMIC STORY- Mighty Morphin Power Rangers (Boom! Studios) Issue 30
During the battle in the moon of the world of coinless, the Mystic Rangers driving the Titan Megazord is seen regrouping with Jack and Kira, however are attacked by evil Zord Serpentera, also is seen briefly in a Tommy Oliver's vision when an alternate Kimberly thrown a green chaos crystal thrown at him.

COMIC STORY- Mighty Morphin Power Rangers: Shattered Grid Finale Issue 1, Chip's timeline was later restored by the Mighty Morphin Rangers after they defeated Drakkon.
Video Game Appearances
Power Rangers Key Scanner
Chip as Yellow Mystic Ranger, appears in the app videogame Power Rangers Key Scanner, amoung various other Rangers teams.

Power Rangers Dash
Chip along with the other Mystic Rangers are among all the Ranger teams which appear in the Korean-developed mobile game Power Rangers Dash.
Powers and Abilities
Flight: Being a bird-type Titan, the Mystic Garuda can fly at high speeds.
Lightning Vision: The Mystic Garuda can fire lightning bolts from his eyes.
Family
Mrs. (unnamed) Thorn - Mother (mentioned) TV STORY-Fire Heart
Yellow Mystic Ranger
As the Yellow Mystic Ranger, Chip wields the power of lightning. His main weapon is the Magi Staff Crossbow. He owns a Mystic Racer and his Titan Form is the Mystic Garuda, which becomes the wings for both the Mystic Dragon and Titan Megazord. With his Legend powers, he can merge with Xander, Vida, and Madison to form the Mystic Lion.
"Galywit Mysto Ranger!"
―Transformation announcement
Arsenal
Mystic Morpher: The device that allows Chip to morph into his Ranger form.
Magi Staff - Crossbow Mode: Yellow Mystic Ranger primary weapons, using the Crossbow mode that the Yellow Ranger uses, crossbow Mode It is capable of fire bolts of electricity.
Mystic Force Fighters: Secondary weapon.
Vehicle
Appearances: MF Episodes 2-18, 20-30, 32, SM Episodes 20 & LBEV
"Galwit Mysto Neramax!"
―Transformation announcement
Arsenal
Mystic Legend Armor: The Legend Armor increases the Ranger's Magical Powers, as well as supplying them with powerful battle armor.

Mystic Lion Staff - Crossbow Staff: Yellow Legend Warrior main weapon, Chip was shown turning his Lion Staff into a crossbow mode, similar to his Magi Staff.
Appearances: MF Episodes 20-22, 24, 26-32
The Mystic Garuda is the bird-like Mystic Titan form of the Yellow Ranger. Forms the wings of the Titan Megazord and the dragon. Has enormous wings in place of arms.
Additional Combinations
Appearances: MF Episodes 3-9, 12, 13, 16-18, 20, 23, 26-28, 30
A zord created when the Green, Pink, Yellow, and Blue Mystic Rangers combine into one being. This massive white lion zord forms the majority of the Manticore Megazord.
Additional Combinations
Appearances: MF Episodes 20, 21, 24, 26-29, 31, 32
Morph and Roll Call
Ranger Key

The Yellow Mystic Ranger Key is Chip's personal Ranger Key. This key along with the majority of the Core Ranger Keys are seen lining the Command Center's interior walls. This key is mainly used by Gia Moran (Super Megaforce Yellow) who uses it to fight as the Yellow Mystic Ranger.
Gallery
Behind the Scenes
Portrayal
Notes
Appearances
See Also
References