Chase Randall is the Dino Charge Black Ranger of the Dino Charge Rangers. He is also referred to as Black Ranger and, in roll calls, as Parasaur Power Ranger Black.
Upon being given the Black Energem by a Maori fortune-teller named Moana, he was the first to be found and become a Dino Charge Ranger followed by Koda soon after.
History
Dino Charge
New Zealand-born Chase Randall works at the Amber Beach Dinosaur Museum as a custodian/runner of sorts and assists Kendall Morgan in paleontological digs.
Some time after Kendall met Keeper, they tracked down Chase who had found the Black Energem and bonded with the spirit of the Parasaurolophus as the first ever Dino Charge Ranger.

TV STORY-Past, Present and Fusion It is later revealed that he was given the Black Energem by a fortune teller/curio shop owner from New Zealand as a reward for his bravery in rescuing her cat.

TV STORY-Breaking Black
After the final battle against Sledge, Chase decides to travel back home to New Zealand, open for visitation from the other Rangers if they wanted to

TV STORY-One More Energem but returned later on to fight Snide after the Rangers disband and then reunite.
"It's been great to fight alongside you."
―Chase greeting the Beast Morphers Rangers.[src]
Chase, alongside some other members of his team, traveled to the main dimension in order to find Keeper, there they fought some foot soldiers and met the Grid Battleforce Rangers. After Keeper got kidnaped by Evox's Army, the Dino Charge Rangers went to Grid Battleforce and explained the situation to the current team, and both teams agreed to work together and rescue Keep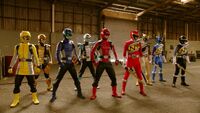 er. They soon accepted a bargain with Evox and went to an abandoned warehouse to trade Ryjack's collection for Keeper, but when Snide didn't follow up on the agreement both teams morphed and got ready to fight.
When the Grid Battleforce Rangers left to fight a Gigadrone, Tyler called Shelby and Riley to fight Snide. Just when the team defeated Snide, the newly revived Sledge and his crew appeared. Chase fought against Curio, but was defeated, and almost destroyed alongside his teammates if it weren't for the Grid Battleforce Rangers appearing at the last second, blasting Sledge's crew and managing to get away after rescuing Keeper. After making sure Keeper was safe and thank the current team, the Dino Charge Rangers departed to their home universe until the next time they meet.
Days after their previous adventure, Goldar Maximus and Snide were attacking the Dino Charge Rangers in their dimension and were after their
Energems. Four of the Grid Battleforce Rangers arrived, but the villains still managed to steal four of the Energems, including the Black Energem, and defeat both teams of Rangers. While both teams were hiding and discussing the villains' plans of making an evil Zord, Jason and Devon arrived, gave the team Morphers and Morph-X powered Dino Chargers and decided to split themselves into two teams. Chase and his team followed Jason on a frontal assault while the Beast Morphers team attacked from behind. When Goldar Maximus and the rest of Evox's army arrived,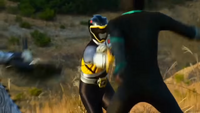 Jason summoned his old Mighty Morphin' teammates and the Dino Rangers to defeat the army in a big fight.
During the battle, Chase defeated some foot soldiers alongside Koda and Zack. When Evox summoned his massive Chimerazord, Chase and his team joined in summoning the Dino Charge Megazord and aiding in its defeat. With Evox on the run again, the teams departed and said goodbye to the Dino Charge Rangers.

TV STORY-Grid Connection
Split History
Shattered Grid
When events set into motion by Lord Drakkon caused the timeline to split into pocket universe, each anchored on a powerset, the Dino Charge Rangers were further misaligned in the timeline. Lord Drakkon then attacked them.

COMIC STORY- Mighty Morphin Power Rangers 2018 Annual
When the timeline was restored, so was Chase.

Personality
Originally from New Zealand, Chase is a cool laid-back 18-year-old. He wears the right clothes, listens to popular music, always well coiffed. He's very handsome and receives a lot of attention from the girls. He gets around by riding a skateboard most of the time, usually sporting a hoodie and/or headphones. However, Chase's one flaw is his forgetfulness; he's usually late to anything important, stopping to flirt with girls or responding to texts.
Family
Ranger Powers
Morph and Roll Call
Behind the Scenes
Portrayal
Notes
Appearances
See Also
References