A Sentai Team Up is an event where one or more Sentai teams joins members from another team or another hero from a different series such as a Metal Hero or Kamen Rider.
In-series team upsEdit
The Great Gathering of 11 Sentai: The Glorious Opening Collection (February 25, 1989)Edit
An invasion by the Hundred Boma Tribes towards the Earth's surface is confronted by the newest Sentai team, the Turborangers, supported by their ten predecessors.
No mecha were seen outside the flashbacks of the previous ten teams
Kamen Rider Decade: World of Shinkenger (July 12, 2009 and July 19, 2009)Edit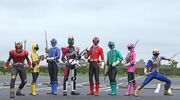 This is the first time a Super Sentai series has teamed up with a series from another Tokusatsu franchise. In this case, Kamen Rider.
Gokaiger vs. Hurricaneger (August 4, 2011 and August 21, 2011)Edit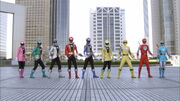 Main article: Ep. 25: Pirates and Ninjas/Ep. 26: Shushuuto The Special

This team-up makes Super Sentai history in that it's the first to occur on TV rather than in a movie (though only the original Hurricaneger trio appear, as neither the Gouraigers nor Shurikenger appeared).
Go-Busters vs. Gavan (September 23, 2012 and September 30, 2012)Edit
Shuriken Sentai Ninninger: Spring Ninja Festival! (April 12, 2015)Edit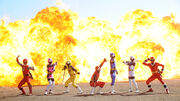 Ninninger vs. Jiraiya (October 18, 2015)Edit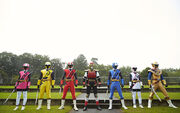 Zyuohger vs. Gokaiger (September 4, 2016 and September 11, 2016)Edit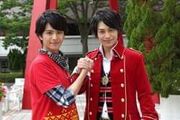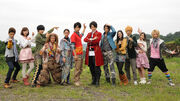 This team-up was part of a two-episode arc, celebrating 2000 episodes in the Super Sentai franchise.
Uchu Sentai Kyuranger: Space Hero! (June 11, 2017)Edit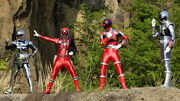 Spring Combining SpecialsEdit
ToQger vs. Kamen Rider Gaim (March 30, 2014)Edit
Ninninger vs. Kamen Rider Drive (March 29, 2015)Edit
Zyuohger vs. Kamen Rider Ghost (March 7, 2016)Edit
Kyuranger vs. Kamen Rider Ex-Aid (March 26, 2017)Edit
Manga crossoversEdit
Hikari Sentai MaskmanEdit
When various villains return to fight the Maskmen, they must call on the aid of several past Red Rangers.
Gaoranger vs. GorengerEdit
A manga adaptation crossover with Himitsu Sentai Gorenger and Hyakujuu Sentai Gaoranger titled Hyakujuu Sentai Gaoranger vs. Himitsu Sentai Gorenger (百獣戦隊ガオレンジャーVS秘密戦隊ゴレンジャー Hyakujū Sentai Gaorenjā Bāsasu Himitsu Sentai Gorenjā) was released in September 2001.