This article is about a/an set of rangers in the Super Sentai series.
The Red Sentai Ranger (赤い戦隊レンジャー, Akai Sentai Renjā) or Red Warrior (赤い戦士, Akai Senshi) is a designation given to one character in every incarnation of Super Sentai. Red is always a hero with a burning sense of justice and usually the leader and the driving force of their respective teams. It is the only color to appear in every Super Sentai team.
Main Sentai Red
These are Rangers who belong on the main team and (with the exception of ZenkaiJuran) are the main protagonists of the show. They are also the first to appear as that specific color designation for the team.
Secondary Red
These are Rangers who, while belonging with the main team, are also the second to appear as that specific color designation for the team.
Unofficial Red
Historic/Alternate Red Rangers
These are Rangers that exist in alternate or expanded versions of the main canon, or in past/future points in time of the main canon.
Unique Evil Red
These are Evil Rangers with unique or highly re-stylized Ranger forms.
Clone Evil Rangers
These are Rangers based off of pre-existing Rangers.
Super Red
Red Rangers who can assume Super Ranger forms.
Sentai Red Team
Gokai Changes
Female Red
Female versions of the Red Rangers as seen in Gokaiger. Costumes/Forms transformed by Gokai Yellow and Gokai Pink are equipped with skirts.
Transfer Changes
Temporary Gender Change
Chronological List of Red Rangers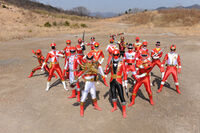 AkaRed (Toru Furuya and Keizō Yabe) is the embodiment of all prior Red Rangers. He first appeared in GoGo Sentai Boukenger vs. Super Sentai, then in Gokaiger.
Tsuyoshi Kaijo (Naoya Makoto) is Akarenger in Himitsu Sentai Gorenger.
Goro Sakurai (Yoshitaka Tanba) is Spade Ace in J.A.K.Q. Dengekitai.
Masao Den (Hironori Tanioka) is Battle Japan in Battle Fever J.
Ippei Akagi (Shinichi Yuuki) is DenziRed in Denshi Sentai Denziman.
Ryuusuke Oowashi (Ryūsuke Kawasaki) and Takayuki Hiba (Takayuki Godai) are respectively VulEagle I and II in Taiyou Sentai Sun Vulcan.
Ken'ichi Akama (Ryouji Akagi) is GoggleRed in Dai Sentai Goggle V.
Hokuto Dan (Satoshi Okita) is DynaRed in Kagaku Sentai Dynaman.
Shirou Gou (Ryosuke Sakamoto) is Red1 in Choudenshi Bioman.
Hiryuu Tsurugi (Haruki Hamada) is ChangeDragon in Dengeki Sentai Changeman.
Jin (Touta Tarumi) is Red Flash in Choushinsei Flashman.
Takeru (Ryousuke Kaizu) is Red Mask in Hikari Sentai Maskman.
Yusuke Amamiya (Daisuke Shima) is Red Falcon in Choujuu Sentai Liveman.
Riki Honoo (Kenta Sato) is Turbo Red in Kousoku Sentai Turboranger.
Gaku Hoshikawa (Toshiya Fuji) is FiveRed in Chikyuu Sentai Fiveman.
Ryu Tendo (Kotaro Tanaka) is Red Hawk in Chōjin Sentai Jetman.
Yamato Tribe Prince Geki (Yūta Mochizuki) is TyrannoRanger in Kyōryū Sentai Zyuranger.
Ryo of the Heavenly Fire Star (Keiichi Wada) is RyuuRanger in Gosei Sentai Dairanger.
Sasuke (Teruaki Ogawa) is NinjaRed in Ninja Sentai Kakuranger.
Goro Hoshino (Masaru Shishido) is OhRed in Chōriki Sentai Ohranger.
Kyosuke Jinnai (Yūji Kishi) is Red Racer in Gekisou Sentai Carranger.
Kenta Date (Hayato Oshiba) is MegaRed in Denji Sentai Megaranger.
Ryouma (Kazuki Maehara) is GingaRed CXXXIII in Seijuu Sentai Gingaman.

Hyuuga (Teruaki Ogawa) was originally chosen to be GingaRed CXXXIII but fell into a crack in the ground and later became Black Knight BullBlack's successor.
There were 132 GingaReds before him in the past 3000 years.

Matoi Tatsumi (Ryuichiro Nishioka) is GoRed in Kyukyu Sentai GoGo-V.
Tatsuya Asami (Masaru Nagai) is TimeRed in Mirai Sentai Timeranger.
Naoto Takizawa (Shinji Kasahara) is TimeFire in Mirai Sentai Timeranger. While not a Red Ranger by name, his costume color is red.
Kakeru Shishi (Noboru Kaneko) is GaoRed in Hyakujuu Sentai Gaoranger.
Yousuke Shiina (Shun Shioya) is HurricaneRed in Ninpu Sentai Hurricaneger.
Ikkou Kasumi (Yujiro Shirakawa) is the Horned Ninja KabutoRaiger in Ninpu Sentai Hurricaneger. While not a Red Ranger by name, he is often considered a Red Ranger (maroon is a darker shade of red).
Ryouga Hakua (Koichiro Nishi) is AbaRed in Bakuryuu Sentai Abaranger.
Banban Akaza (Ryuuji Sainei) is DekaRed in Tokusou Sentai Dekaranger. He is the second DekaRed of the Earth branch of Special Police Dekaranger.
Kai Ozu (Atsushi Hashimoto) is MagiRed in Mahou Sentai Magiranger.
Heavenly Saint Blagel (Tsutomu Isobe) is Wolzard Fire in Mahou Sentai Magiranger. While not a Red Ranger by name, he is often considered a Red Ranger (crimson is a darker shade of red).
Satoru Akashi (Mitsuomi Takahashi) is Bouken Red in GoGo Sentai Boukenger.
Jan Kandou (Hiroki Suzuki) is GekiRed in Juken Sentai Gekiranger.
Sosuke Esumi (Furuhara Yasuhisa) is Go-On Red in Engine Sentai Go-Onger.
Takeru Shiba (Tori Matsuzaka) is Shinken Red XIX in Samurai Sentai Shinkenger. The heads of the Shiba House were all Shinken Reds.

Kaoru Shiba (Runa Natsui), who was the true eighteenth head (Shinken Red XVIII), temporarily took Takeru's place, then adopted him to make him a true Shiba. Kaoru is also known as Princess Shinken Red to differentiate her from Takeru as Shinken Red, as rather than taking Takeru's power, both of them could become Shinken Red at the same time.
Kaoru was preceded by her father, Masataka Shiba (Masaya Matsukaze), Shinken Red XVII.
Masataka was preceded by Yōjirō Shiba, Shinken Red XVI.
Yōjirō was preceded by Kōichirō Shiba, Shinken Red XV.
Kōichirō was preceded by Akira Shiba, Shinken Red XIV.
Akira was preceded by Seisuke Shiba, Shinken Red XIII.
Seisuke was preceded by Morinobu Shiba, Shinken Red XII.
Morinobu was preceded by Arishige Shiba, Shinken Red XI.
Arishige was preceded by Aritsugu Shiba, Shinken Red X.
Aritsugu was preceded by

Akitsugu Shiba

, Shinken Red IX.
Akitsugu was preceded by Katsunoshin Shiba, Shinken Red VIII.
Katsunoshin was preceded by Atsuhide Shiba, Shinken Red VII.
Atsuhide was preceded by Koshinari Shiba, Shinken Red VI.
Koshinari was preceded by Yukiyasu Shiba, Shinken Red V.
Yukiyasu was preceded by Sakuya Shiba, Shinken Red IV.
Sakuya was preceded by Iori Shiba, Shinken Red III.
Iori was preceded by Resshin Shiba, Shinken Red II.
Resshin was preceded by Retsudo Shiba (Masashi Goda), Shinken Red I.
A Fake Shinken Red appears in the video game Super Sentai Battle: Ranger Cross.

Alata (Yudai Chiba) is Gosei Red in Tensou Sentai Goseiger.
Captain Marvelous (Ryota Ozawa) is Gokai Red in Kaizoku Sentai Gokaiger. He was given the Ranger Keys by AkaRed, these keys allow him to change into past Rangers, often Red Rangers.
Hiromu Sakurada (Katsuhiro Suzuki) is Red Buster in Tokumei Sentai Go-Busters.
Daigo Kiryu (Ryo Ryusei) is Kyoryu Red in Zyuden Sentai Kyoryuger.
Right Suzuki (Jun Shison) is ToQ 1gou in Ressha Sentai ToQger.
Takaharu Igasaki (Shunsuke Nishikawa) is AkaNinger in Shuriken Sentai Ninninger.
Yamato Kazakiri (Masaki Nakao) is Zyuoh Eagle, as well as Zyuoh Gorilla and Zyuoh Whale, in Doubutsu Sentai Zyuohger.
Lucky (Takumi Kizu) is Shishi Red in Uchu Sentai Kyuranger.
Tsurugi Ohtori (Keisuke Minami) is Houou Soldier in Uchu Sentai Kyuranger. While not a Red Ranger by name, his costume color is red.
Kairi Yano (Asahi Itou), Lupin Red and Keiichiro Asaka (Kousei Yuuki), Patren 1gou are the clashing Red warriors of Kaitou Sentai Lupinranger VS Keisatsu Sentai Patranger.
Koh (Hayate Ichinose) is Ryusoul Red in Kishiryu Sentai Ryusoulger.
Juru Atsuta (Ryo Komiya) is Kiramai Red in Mashin Sentai Kiramager.
Zyuran is ZenkaiZyuran in Kikai Sentai Zenkaiger.
Unofficial
Nobuo Akagi (Wada Masato) is AkibaRed in Hikonin Sentai Akibaranger. Akibaranger is a Sentai series that aired during Go-Busters. It has been classed by Toei as an "unofficial installment" of the Super Sentai series.
Momotaros (Toshihiko Seki), who can assume the red-colored Kamen Rider Den-O Sword Form, noted that he was the red of the "Imagin Sentai", when he claimed that the Taros were like a Sentai team. TV STORY-Kamen Rider × Super Sentai: Super Hero Taisen
Emu Hojo (

Hiroki Iijima

) and Kaito Kumon (Yutaka Kobayashi) are Aka-Rider in Kamen Sentai Gorider.
Ranger Keys
Sentai Rangers
Others
See also
References
Trending pages
All items (120)