This article is about a/an series of comics set in the Power Rangers comic sub-franchise by Boom! Studios.
Power Rangers began in 2016 when Boom! Studios acquired the license after Hamilton Comics, Image Comics, Marvel Comics and Papercutz. Starting off as a modernized retelling of the goings on in the middle of adventures set in Mighty Morphin Power Rangers, the series soon evolved into its own universe and mythology, while remaining firmly grounded in its MMPR roots.
Series
Boom! Studios have created several ongoing comic book series, limited miniseries, crossovers, one-shot specials, and standalone graphic novels. The two initial ongoing series, Mighty Morphin Power Rangers and Go Go Power Rangers, were the primary titles that followed the Mighty Morphin team at different points in the timeline. After their conclusions, they were followed up with the current ongoing series, Mighty Morphin and Power Rangers.
Title
Issues
Debut
Finale
Mighty Morphin Power Rangers
0-55, 100, Three Annuals, Three Specials
January 13, 2016
October 21, 2020
Mighty Morphin Power Rangers: Pink
1-6
June 1, 2016
January 25, 2017
Justice League/Power Rangers
1-6
January 11, 2017
September 27, 2017
Power Rangers: Aftershock
Graphic Novel
March 28, 2017
Go Go Power Rangers
1-32, Two Specials
July 26, 2017
June 10, 2020
Power Rangers: Soul of the Dragon
Graphic Novel
December 5, 2018
Power Rangers: The Psycho Path
Graphic Novel
October 9, 2019
Mighty Morphin Power Rangers/Teenage Mutant Ninja Turtles
1-5
December 4, 2019
June 17, 2020
Power Rangers: Ranger Slayer
One Special, One-shot
July 15, 2020
July 22, 2020
Power Rangers: Drakkon New Dawn
1-3
August 19, 2020
October 28, 2020
Power Rangers: Sins of the Future
Graphic Novel
November 3, 2020
Mighty Morphin
1-
November 4, 2020
Ongoing
Power Rangers
1-
November 11, 2020
Ongoing
Power Rangers Unlimited: Heir to Darkness
One-shot
March 31, 2021
Power Rangers Unlimited: Edge of Darkness
One-shot
June 30, 2021
Power Rangers Universe
1-6
December 29, 2021
May 25, 2022
Godzilla vs. The Mighty Morphin Power Rangers
1-5
March 23, 2022
July 27, 2022
Power Rangers Unlimited: Countdown to Ruin
One-shot
June 29, 2022
Power Rangers Unlimited: The Death Ranger
One-shot
August 31, 2022
Mighty Morphin Power Rangers
Set in the timeframe after Tommy joined the team as the Green Ranger. This series initially focuses on Rita's attempted conquest of Earth, but then shifts to a battle with an evil Ranger from the World of the Coinless. It also sheds new light on what it turns out to have been Zordon's original Rangers.
Go Go Power Rangers
Set in the timeframe after the first five Mighty Morphin Rangers received their powers, the series also delves into the Rangers' interpersonal relationships.
Power Rangers: Drakkon New Dawn
After the shocking events of Power Rangers: Ranger Slayer #1, Kimberly is determined to purge the terrifying hold that Drakkon has had over her world, starting with Deadlock; the prison tower where Drakkon held all those who opposed him. But even the Ranger Slayer has no clue of the true power kept in Deadlock—and what unlocking the doors will set into motion. As Kimberly investigates the worst of Drakkon's secrets, she sets in motion Drakkon's final plan—one that will pit her against a fan-favorite Power Rangers villain like you've never seen them before!
Mighty Morphin
A comic book series set as a companion piece running parallel to the relaunched Power Rangers book. It is a modern alternate retelling of the TV series of the same name and focuses on the Mighty Morphin team on Earth.
Power Rangers
A comic book series set as a companion piece running parallel to the relaunched Mighty Morphin book. The comic series focuses on Rangers other than the Mighty Morphin team, with an adventure starring the Omega Rangers as its initial focus coinciding with the "Unlimited Power" story arc.
Power Rangers Universe
A limited series that explores the origins of the Phantom Ranger, his connection to the Morphin Grid, and how it ties into the greater Power Rangers Universe. It also introduces the Squadron Rangers.
Annuals
The annuals tell short stories that supplement the storylines in the other series, such as anecdote, side adventures and even origin stories.
Specials
These are one-shots outside of the annual or regular series format.
Mighty Morphin Power Rangers Pink
Set in the timeframe after Kim had left the team for some time, 'Pink' finds Kimberly fending off family drama AND a monster attack, powerless and on her own, until some old friends show up to help. This spin-off series covers the events that occur after A Different Shade of Pink, which was Kimberly's departure episode. Kimberly's family history is also delved into as well.
Justice League/Power Rangers
At the 2016 New York Comic Con, DC Comics and Boom! Studios announced that they would be doing a six issue mini-series crossover between the Justice League and Mighty Morphin' Power Rangers. The publishers began releasing issues starting in January of 2017 and concluded the crossover in September of 2017.
Power Rangers: Aftershock
Announced by Lionsgate and Boom Studios in December 2016, this graphic novel, despite not being part of the universe of previous comics, is a continuation of the 2017 film.
Power Rangers: Soul of the Dragon
After his time as the Black Dino Ranger in Dino Thunder, Tommy Oliver has moved on from being a Ranger, letting the S.P.D. Rangers defend the world. Unfortunately, his son goes missing, and he'll have to discover some things about his past and join up with some surprising teammates to find him and bring him home safely.
Power Rangers: The Psycho Path
The struggle between good and evil goes galactic as secret origins are revealed and lives are changed forever in this epic original graphic novel story that delves deep into the origins and motivations of the ultimate adversaries of the Power Rangers, the Psycho Rangers! They are faster, stronger, and smarter…but evil. Created by Karone when she was still the evil Astronema, the Psycho Rangers were programmed with overwhelming hate for all things Power Rangers. They were defeated at great personal cost by the Power Rangers, but now someone has brought them back and they are more murderous than ever before.
Who brought these monstrous, twisted Rangers back, and why? And can Karone, the former Lost Galaxy Pink Ranger, and her brother Andros, the Red In Space Ranger, stop the Psychos before they bring the universe to its knees?
Mighty Morphin Power Rangers/Teenage Mutant Ninja Turtles
The Power Rangers arrive in New York City to find Tommy Oliver - AKA The Mighty Morphin Green Ranger - but soon discover he's joined forces with the villainous Shredder and the Foot Clan! As the Rangers are sent reeling by this betrayal, they're confronted by another (fr)enemy - the Teenage Mutant Ninja Turtles! Can these heroes find a way to work together to defeat the bad guys and save the world from total destruction?!
Godzilla vs. The Mighty Morphin Power Rangers
When Rita Repulsa uses an ancient artifact to transport herself to a universe without Power Rangers, she finds herself in a world with aliens, kaiju, and… Godzilla! Hoping to annihilate this new foe, Rita hurls her own terrible creatures into battle. But she never expects that the Rangers have followed her to this alternate reality, pitting the Dinozords themselves head-to-head with the King of the Monsters!
Power Rangers: Sins Of The Future
When Jen returns from the future, she and Wes are attacked by a mysterious stranger who has dire news — the timelines have been altered with deadly consequences and Jen is to blame! The shocking identity of their accuser sets them on a collision path with an enemy they never expected.
Can Jen and Wes survive the threats to their pasts, presents and futures? Or will it be the end of everything as they know it?
Mighty Morphin Power Rangers Archive
This is a collection that publishes comics made by Boom's predecessors in Power Rangers comics.
Storylines
Both Mighty Morphin Power Rangers and Go Go Power Rangers have featured individual story arcs within each comic book series, but Shattered Grid was the first crossover story event. Following Shattered Grid, major story events have unfolded all the way through the end of both series and into the current ongoing titles, Mighty Morphin and Power Rangers.
| Storyline | Issues | Debut | Finale |
| --- | --- | --- | --- |
| Shattered Grid | MMPR #24-30, HyperForce 19-20, Go Go #8-12, 2018 Annual, FCBD 2018 Special, Shattered Grid Finale | February 22, 2018 | August 29, 2018 |
| Beyond the Grid | MMPR #31-39 | September 26, 2018 | June 5, 2019 |
| Necessary Evil | MMPR #40-50, Go Go #21-32 | June 27, 2019 | June 24, 2020 |
| Unlimited Power | MM #1-12, PR #1-12, PR Unlimited: Heir to Darkness, PR Unlimited: Edge of Darkness | November 4, 2020 | October 13, 2021 |
| The Eltarian War | MM #13-16, PR #13-16 | November 10, 2021 | February 16, 2022 |
| Charge To 100 | MM #18-22, PR #18-22, PR Unlimited: The Death Ranger, MMPR #100 | April 13, 2022 | September 2022 |
Shattered Grid
Lord Drakkon has escaped Grace Sterling when Saba's attempt on his life fails. He then powers up with the help of Ninjor who thinks him an ally. Jen Scotts travels to the present time and universe of the Mighty Morphin Power Rangers to prevent temporal aberrations that are happening across universes. The timeline has also fractured to protect the Morphin Grid and has separated each Ranger team's timelines and aligned them so they are all concurrent but in different worlds. Because of this the Rangers must stand together to defeat Lord Drakkon. The legacy of the Rangers is at stake.
Beyond the Grid
After the conclusion to Shattered Grid, an all-star team of Power Rangers are drawn together from across time and space to combat a never-before-seen evil. But even with Ranger Slayer (an alternate universe version of Kimberly Hart, the original Mighty Morphin Pink Ranger) leading some of the most powerful members from Zeo, Dino Charge, Ninja Storm, Lost Galaxy and In Space, can this new group of heroes find a way to work together to defeat the onslaught of an unfamiliar, terrifying new villain? Just who is the mysterious Dark Ranger? And what is the secret of the all new Solar Ranger?
Necessary Evil
A storyline that showcases the events of the White Ranger's first year as the leader of the Power Rangers and Jason, Zack and Trini's activities as black ops Rangers from the Mighty Morphin comic, while the Go Go Power Rangers tie ins show how the three left the team and the comic's version of the events of "White Light". It also deals with some lingering consequences of the events from Shattered Grid, such as an intergalactic cult of Morphin Grid empowered individuals who threaten the existence of Rangers everywhere in the universe.
Unlimited Power
The story follows a brand new Mighty Morphin team that includes a new Green Ranger going up against an emboldened Lord Zedd. Zordon's past is also revealed, leading to new discoveries and new threats. Meanwhile, the Omega Rangers go rogue and team up with Lord Drakkon to take on a new cosmic threat in the form of The Empyreals.
The Eltarian War
A story arc that deals with the fallout of the events of Unlimited Power, with Eltar in the midst of a galactic conflict and the relationships between the Power Rangers and Zordon being at its most turbulent point ever. It introduces the second Omega Blue Ranger and the return of Lord Zedd as the main threat to the universe.
Charge To 100
Charge To 100 is an arc that counts down to the 100th issue of Power Rangers comics published by Boom! Studios. With the Command Center destroyed, the Rangers go on a quest to get a new one while Rocky and Matt defend the vulnerable Power Chamber from invading aliens back on Earth.
Backup Features
Mighty Morphin Power Rangers comics featured backup features featuring duos in the Power Rangers universe. The backup features were eventually abandoned in order for writers and artists to meet deadlines, as finishing the last back up feature ran into problems and errors during production.
The Ongoing Adventures of Bulk and Skull
The first set of backup stories focused on the lovable goofs of the franchise, Bulk and Skull and their adventures, from being duped into controlling one of Rita's monsters to being forced to be with Lt. Stone.
The Ongoing Misadventures of Squatt and Baboo
Squatt and Baboo create a series of magical explosives that can send the Power Rangers away and trap them in a parallel or alternate universe. The two bumbling villains accidentally use it on themselves and get sent hurtling across space and time. As they travel across realities, they decide to try to be heroes and find a place where they can have a better life...only to fail each time.
The New Adventures of Blue Senturion and Ninjor
A story written in the style of late 1980s/early 1990s buddy cop films. In 2205, Blue Senturion must investigate a series of thefts involving historical Power Rangers artifacts and reluctantly teams up with Ninjor to find and apprehend the criminal after a misunderstanding with Blue Senturion thinking he was a suspect.
Covers
Across the different series, the Power Rangers comics have a collectible aspect to them, with covers matching those from either the same series or different series.
Helmet Variants
by Goñi Montes, these were helmet tributes to each Ranger that then expanded to other variations with other items as well. These are the most easily recognized covers of the variant series. Limited holofoil variants of the covers have been printed starting with the 40th issue of MMPR. The variant series is capped off by a full team of Rangers holding their helmets, except for the new Green Ranger, wherein a second variant released later on has him revealing his identity on the cover along with the rest of the Rangers.
Helmet Variants (Teenage Mutant Ninja Turtles edition)
by Goñi Montes, these expanded the now iconic helmet variants from the main series by having the Turtles and Shredder all hold helmets of the Rangers. Each of the core five were represented held by the Turtles for each issue, while Green and White were distributed to different issues.
Zord Incentive Variants
by Goñi Montes
Villain Incentive Variants
by various artists
Action Figure Incentive Variants
by various artists
Exceed Zord and Ranger variants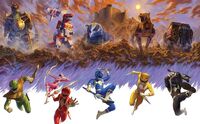 These Zord and Ranger variants, minus the Megazord, come together to form one big poster.
Ultimate Comics Megazord variants
Dimension X variants
Variant covers that depict the Rangers and Goldar in an ancient ukiyo-e art style.
Splash Connecting Covers
by Felipe Smith

Retro variants
by Jordan Gibson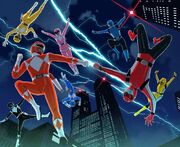 These covers illustrate key moments in Power Rangers history and have borders that replicate the ones from Marvel Comics 1990s era books. Issues 38 and 39 are a 25th Anniversary cover. Jordan stated on his Twitter account that its concept is based on the Super Sentai Hand-Off tradition, with Jason fistbumping Devon Daniels, the Red Beast Morpher Ranger.
Morphin Variants
by Goñi Montes
Connecting Covers
by Steve Morris
Morpher Covers
FOC
by Julian Totino Tedesco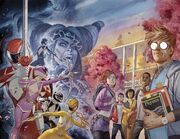 X-men Tribute Cover
by Dan Mora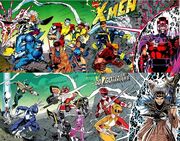 Justice League teamup covers
Versus Variant
by Dan Mora
All Rangers
by Carlos Fabián Villa, Joana LaFuente and Linda Lithen
Gold Foil variants
Portrait Civilian/Ranger Variants
Locker Variants
by Michelle Wong
Paper Dolls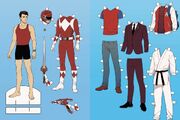 by Audrey Mok
Retro (Go Go)
by Audrey Mok
Covers that are stylized in the form of 1960s Gold Key comic covers, with each of them referencing a classic episode of MMPR.
Homage Variants
Comic covers that are homages to movie poster art of classic films from the 1980s and 1990s.
Social Media Variants
Yearbook Variants
Album Cover Variants
The retro covers that replaced the movie poster variants, each one references a nostalgic album record cover.
Shattered Grid/Beyond the Grid Connecting Covers
for Baltimore Comic-Con by French Carlomagno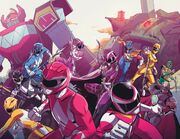 Beyond the Grid reflection vriants
Retro Trading Card Variants
by Kris Anka. Variant covers that resemble 1990s X-men trading cards.
Story Variants
by Dan Mora
These variants will be printed during the Necessary Evil story arc, each cover would depict a comic page or panel and all assemble to form one cohesive mini-story involving the Emissaries Three and the immediate events after Shattered Grid.
Showcase Variants
by Jason Griffths
Outfit Reveal Variants
by Peach Momoko
Every Ranger Ever connecting covers
by Dan Mora

Mighty Morphin/Power Rangers Main Connecting Covers with Power Omnibus Center Profile Variants
by In-Hyuk Lee, and Matteo Scalera, with Goni Montes for profiles with individual feature release alternating between MM and PR
Mighty Morphin/Power Rangers Connecting or Paired Covers
by Justin Frany
by Artgerm
by Steve Morris
by Carlos Dattoli
by Diego Galindo
by Bon Bernardo
Omega Rangers Profile variants
by Jolzar Mischke
"Darkness" Connectong Covers
Full body variants
by Bon Bernardo
Omega Rangers dissolve variants
by Yejin Park
Manga-style variants
by Rian Gonzalez
Power Rangers Universe - Rangers by color
by Dan Mora
Power Rangers Universe - Dark Rangers series
Negative Space variants
by Goñi Montes
Notes
Inasmuch as the TV Mighty Morphin Power Rangers story was set in current times back when it aired in 1993, the comics take the same route, taking a contemporary approach. However, as it began publishing in 2019, there are notable differences setting aside the sliding fictional timeline, such as improved technology. However, given the sliding timeline, and the comics overall desire to keep the events of the TV show as is, the stories fit before, in between, or after given TV show arcs. This only really changes after Shattered Grid where a split history happens, and everything after Tommy became a White Ranger may happen differently than it did in the original timeline.
Zedd is the dark and competent version of himself as his original TV incarnation started out as, before complaints by parents saying he was too scary. This is also evident in the other villains, such as Rita Repulsa and her cohorts, where camp has been switched for a more serious take on the character.
Following the split history after Shattered Grid, Jason, Trini and Zack's Peace Conference exit became a cover for their time as the Omega Rangers cleaning up the residual damage from The Shattering.
Pages in this Category
Trending pages
All items (579)