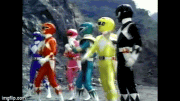 An army of monsters were created by Lord Zedd by using his magic to transform objects or living things (though some from thin air alone) and were chosen to match a problem a Ranger was dealing with. It was stated that the monsters created by Lord Zedd were much stronger than the monsters created by Finster.
To make a monster grow, Lord Zedd conjured a Growth Bomb shaped like a grenade and throw it to Earth where it exploded on impact with the ground and the magic within the Growth Bomb would make the monster grow. On occasion, the monster would catch it themselves before impact and slam it into the ground themselves. Once the monster was defeated, the objects usually reverted back to its original state. There were 50 monsters this season however, 6 of those were monsters resurrected from season 1.
Regular Monsters
Created by Lord Zedd
Summoned by the Ghost of Darkness
Independent
Lists
Past Monsters appearing in Season 2
Episodes from Zedd's Monster Mash and A Reel Fish Story.
Doomstone's resurrected monsters consisted of
Notes
See Also
References
Trending pages
All items (47)