"Arriving in a spark! Solving in a flash! Mashin Sentai Kiramager!"
―Team introduction
The Kiramagers are the 45th Super Sentai. They are a team of gem/machine-themed rangers that use the power of vehicles known as "Mashin" to fight the evil Dark Empire Yodonheim.
Team Members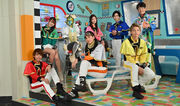 Team History
Kishiryu Sentai Ryusoulger VS Lupinranger VS Patranger
to be added
Episode ZERO
Fleeing the destruction of her home of Crystalia, Princess Mabushina fled to Earth with the five Kiramai Stones to seek out people to fight the Dark Empire Yodonheim. With the help of CARAT and the sentient Kiramai Stones, Mabushina was able to find help from four humans to become the Kiramagers, although the Red Kiramai Stone was let loose to search for his partner by himself.
Arsenal
Transformation Devices
Individual Weapons and Team Weapon
Sidearms
Other Devices
Mecha
Main
Legend:◆ piloted mecha,  2-person mecha, ❖ auxiliary mecha
Auxiliary
Additional Formations
Kiramagers
Notes
Appearances
References