"Dino Fury Victory!"
―Victory catchphrase
The Dino Fury Rangers are the Power Ranger team from Power Rangers Dino Fury. They fight the Sporix Army to prevent history from repeating itself and destroying the Earth. They succeeded the Knights of Rafkon, who fought as their Ranger predecessors millions of years ago.
Rangers
Team History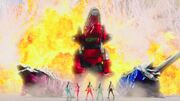 TBA
Arsenal
Morphing Devices/Sidearms
Multi-Use Devices
Communication Devices
Individual Weapons and Team Weapon
Cockpit Control Weapons
Other Devices
Vehicles
Zords
Main
Legend:◆ piloted mecha,  2-person mecha, ❖ auxiliary mecha; colors are in reference to Rangers who piloted them and not the physical color of the zords
Auxiliary
Additional Formations
Members
Notes
Dino Fury marks the return of having a female counterpart of a male Sentai Ranger since the Wild Force Rangers nineteen years earlier.
Dino Fury Rangers shares few similarities with the other two past Dino Rangers:

Like the six main team members of Dino Charge Rangers, Dino Fury shares a same color formation as the former: Red-Blue-Black-Green-Pink-Gold.
Like Mighty Morphin Rangers, one of the team's secondary female member is also bears a pre-historic Tiger motif and has a Sentai counterpart who is a male.

Additionally, much like Mighty Morphin's 2017 counterpart team, Dino Fury also have one of the team's secondary female member who bears a pre-historic Tiger motif representing LGBTQ characters.

Marks the the return of having a Triceratops motif associated to a Blue Ranger since Dino Thunder Rangers seventeen years earlier.

Dino Fury is the second known team consisting four humans and two aliens (the Red Ranger leader and the sixth Ranger) since the Space Rangers twenty three years earlier.
Appearances
See Also
References
Trending pages
All items (7)