| | |
| --- | --- |
| | This article is about a/an set of rangers in the Power Rangers franchise. |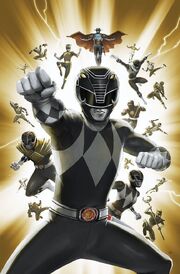 For information about Rangers wearing this color in Super Sentai, see Sentai Black.
For the individuals solely referred to as the Black Ranger, see Zack Taylor or Adam Park.
The Black Ranger is a designation given to several Power Rangers characters. Black Rangers are often part of the core Ranger team. When the Black Ranger is not in the core five Rangers, this position is usually taken by a Green Ranger, excluding Mighty Morphin Power Rangers, Power Rangers Turbo, Power Rangers Lost Galaxy, Power Rangers Jungle Fury, Power Rangers RPM, and Power Rangers Dino Charge which feature both. Dino Charge is the first time that the Black Ranger replaces a Yellow Ranger. There has never been a female Black Ranger in the TV series, excluding Legendary Ranger Mode in Super Megaforce. However, the team of Power Rangers HyperForce has a female Black Ranger in the form of Vesper Vasquez, and other female Black Rangers have appeared in the comics.
Main Black Rangers
These are Rangers who belong on the main team, and are protagonists of the show. They are also the first to appear as that specific color designation for the team.
Historic/Alternate Rangers
These are Rangers that exist in alternate or expanded versions of the main canon, or in past/future points in time of the main canon.
Non-Canon Rangers
These are Rangers that exist in non-canon versions, made by official parties.
Heroes with Debatable Ranger Status
These are heroes in the main canon that have been officially categorized with other Rangers across various series in some form.
Unique Evil Rangers
These are Rangers with unique or highly re-stylized Ranger forms.
Clone Evil Rangers
These are Rangers based off of pre-existing Rangers.
Enhancement Modes
Black Rangers who can assume Enhancement Modes.
Legendary Ranger Modes
Female Black
Female versions of the Black Rangers as seen in Super Megaforce. Costumes/Forms transformed by Super Megaforce Yellow Ranger and Super Megaforce Pink Ranger are equipped with skirts.
Additional Black Modes
Black Ranger costumes/forms from teams never before seen in the franchise that first appear on Super Megaforce.
Chronological List of Black Rangers
Notes
In the Sentai version of the show, the Black Ranger usually serves as second in command.
Trending pages
All items (49)
Community content is available under
CC-BY-SA
unless otherwise noted.