This page lists all the weapons, devices, and vehicles used by the Patrangers. Below is the inventory, which also reflects on the Patranger series page as well as the team page of the Patrangers.
Transformation Devices
VS Changer
The VS Changer (VSチェンジャー, Bui Esu Chenjā) is the transformation device/standard issue firearm of the Lupinrangers and Patrangers.

X Changer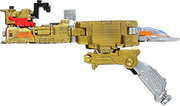 The X Changer (Xチェンジャー, Ekusu Chenjā) is the transformation device/standard issue firearm of Lupin X/Patren X.
Suits
Keisatsu Suits
VS Emblem
The VS Emblem (VSエンブレム, Bui Esu Enburemu) of the Patrangers is a gold-colored metallic badge in the shape of an "S", balancing the silver "V" of the Lupinrangers. In the case of the Patrangers, all four sport an Emblem on the left breast as well as the forehead of the helmet of their Keisatsu Suit.
Multi-Use Devices
to be added

Individual Weapons
X Rod Sword

The X Rod Sword (Xロッドソード, Ekusu Roddo Sōdo) is the personal weapon of Patren X. This weapon has two modes: a sword and a rod. It is also used to pilot the X Trains when the weapon is set in the cockpit and the lever is moved to the middle. When the lever is set to the middle position then returned to the position beforehand, it can initiate a finishing attack.
For Patren X, it initiates the Excellent X (エクセレントエックス, Ekuserento Ekkusu) attack, where he shifts the lever three times (each with their own announcement) to then form a large sharp X sigil surrounded by a spinning ring of sharp crosses, then jabs the rod into the construct to fire it.

to be added
Splash Buster
to be added

Scissor Shield & Blade Boomerang[1]
to be added

Magic Arrow[1]
to be added

Sidearms
Pat MegaBo
The Pat MegaBo (パトメガボー, Pato MegaBō) is the main weapon of the Patrangers. The Baton Mode is able to perform the special attack Dame! Zettai Giri (ダメ!ゼッタイ斬り, Dame! Zettai Giri)
Vehicles
GSPO Patcar
GSPO Patcar (GSPOパトカー, GSPO Patokā) is a patrol car used by the Global Special Police Organization Japan Branch's Tactical Unit before disembarking and transforming.
One such car was used to escort Commander Hilltop, who was carrying two new VS Vehicles.

TV STORY-Number 5: Targeted, the International Police
It is a modified Mitsubishi Lancer Evolution VII.
Other Devices
to be added
Inventory
Transformation Devices
Individual Weapons and Team Weapon
Side Arms
Behind the scenes
Portrayal
References
Trending pages
All items (6)