This page lists all the weapons, devices, and vehicles used by the Mighty Morphin Power Rangers. Below is the inventory, which also reflects on the Mighty Morphin 3 series page as well as the team page of the Mighty Morphin Power Rangers.

Morphers
Power Morphers
The Power Morphers are the Mighty Morphin Power Rangers' morphing devices.

Multi-Use Devices
Power Coins
The Power Coins are the source of each Rangers' powers. These new coins are derived from Ninja Powers.

Communication Devices
Wrist Communicators
The Wrist Communicator is a watch-like device used by the Mighty Morphin Power Rangers to communicate with one another, the Command Center and for teleportation usage as well.

Sidearms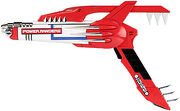 Blade Blaster
Small sticks that could turn into small swords or ray guns, used as the core Rangers' sidearms.

Power-Ups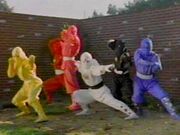 Ninja Ranger Power
Main: Ninja Ranger Power
With new coins came new powers. The Rangers required a form stronger than their civilian forms could provide. Their new Ninja powers granted them powers that lied intermediate to their morphed and unmorphed forms. This form was activated without their Morphers, and with the phrase, Ninja Ranger Power Now!

Metallic Armor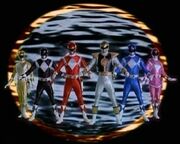 Main: Metallic Armor
The Metallic Armor is special armor created for battling the new-and-improved Tenga Warriors. The power comes directly from the Morphing Grid and the armor cannot be used outside the Earth's atmosphere. It enhances the Rangers' speed, strength & resistance to injury or magic spells. It was given to the Rangers by Zordon after Master Vile had powered up the Tengas.

Vehicles
Shark Cycles
For quick chases through the streets of Angel Grove, nothing beats the Shark Cycles. Created out of the fossilized fin of a great prehistoric shark, these lightweight and powerful motorcycles transport the Rangers to action in record time. Off-road suspension, knobbly tires, and rugged construction allow the Rangers to pursue evil over the roughest terrain on their Shark Cycles. The Black and Blue Shark Cycles are based slightly on hammerhead sharks, while the Yellow and Pink Shark Cycles are based on sawsharks.

Inventory
Morphers
Multi-Use Devices
Communication Devices
Sidearms
Weapons
Power-Ups
Vehicles
Notes
References
Trending pages
All items (4)