This page lists all the weapons, devices, and vehicles used by the Dino Fury Rangers. Below is the inventory, which also reflects on the Dino Fury series page as well as the team page of the Dino Fury Rangers.
Morphing Devices/Sidearms
Dino Fury Morpher
The Dino Fury Morpher is the transformation device of the main five Dino Fury Rangers.

Chromafury Saber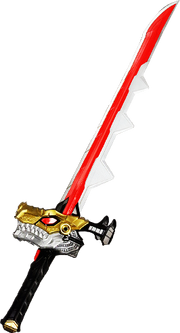 The Chromafury Saber is the sidearm of the Dino Fury Rangers and it can also turn into a dagger called the Dino Dagger.

TV STORY-Destination Dinohenge When an auxiliary Dino Fury Key is inserted in the mouth opened by the lever on the back, the user can access armor and powers based on the inserted Key.
TBA
This unnamed morpher is the morpher/standard issue firearm of the Dino Fury Gold Ranger.

Multi-Use Devices
Dino Fury Keys
The Dino Fury Keys are the key-based gimmicks of the Dino Fury Rangers.[1]

Communication Devices
Communicator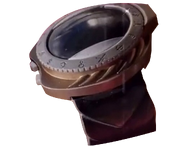 The Rangers use Communicators to engage in video or audio calls, teleport, and summon their Morphers onto.
To teleport, the ring must be turned 180 degrees before pressing the communicator.
Mick Kanic later received one as another means of transportation.

Ranger Hotline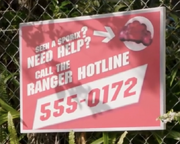 The Ranger Hotline is a system where the citizens of Pine Ridge report a Sporix Beast to the Rangers.

Subspace Transmitter

Zayto and Solon have an unnamed Subspace Transmitter in the base, which they can use to communicate great distances into space as well as receive messages. This requires a special modulator made of a special crystal from Rafkon. When the modulator was damaged, a shard of the crystal Zayto's mom gifted him as a pendant was used as a replacement.

TV STORY-Lost Signal

Individual Weapons
to be added
Cockpit Control Sword
Mega Fury Saber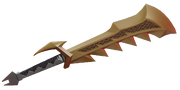 The Mega Fury Saber is a sword that is used by Zayto during a Megazord battle. It has a similar design to the sword on his Dino Fury Key. Whenever a Sporix Beast is ripe for defeat, Zayto will summon it via yellow energy and catch it before using it to initiate the finishing attack similarly to the Ninja Master Blade from four years earlier. The Mega Fury Saber is an exclusive item to the Power Rangers Franchise.

Other Devices
Dino Fury Battle Belt
The Dino Fury Battle Belt is the belt of the Dino Fury Ranger's suits. Each one can hold a Dino Fury Key inside for access in battle.
Spook Snare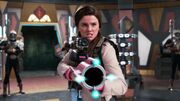 Spook Snare: It detects and captures ghosts. It also has an electrical net to catch anything in sight.

Inventory
Morphing Devices/Sidearms
Multi-Use Devices
Communication Devices
Communicator ◆◆◆◆◆◆
Subspace Transmitter ◆
Individual Weapons and Team Weapon
to be added
Cockpit Control Weapons
Other Devices
Behind the scenes
Portrayal
to be added
See Also
References
Trending pages
All items (5)