This page lists all the weapons, devices, and vehicles used by the Brave Dino Force Rangers. Below is the inventory, which also reflects on the Power Rangers Dino Force Brave series page as well as the team page of the Brave Dino Force Rangers.
Transformation Devices/Sidearms
GabuGaburivolver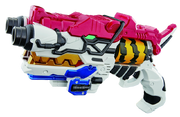 The GabuGaburivolver (ガブガブリボルバー, Gabugaburiborubā) is the transformation device/standard issue firearm of all of the Brave Dino Force Rangers.

GabuGabuChanger
The GabuGabuChanger (ガブガブチェンジャー, Gabugabuchenjā) [1] is the gauntlet transformation device for Brave Gold Dino which triples as a blaster and a mini blade.

GabuGabuCalibur
The GabuGabuCalibur (ガブガブキャリバー, Gabugabukyaribā) is the Brave Dino Force Rangers' primary sword weapon.

GabuGabuCannon
The GabuGabuCannon (ガブガブキャノン, Gabugabukyanon) is the combined weapon form of the GabuGaburivolver and GabuGabucalibur.
Normally, it can fire a volley of shots rapidly like a machine gun, but once the pump is pulled back, it can fire shotgun-like blasts. If done once more, it fires a small cannon ball-like blast.

Multi-Use Devices
Dinocells
See also: Zyudenchi

See also: Dino Chargers
The Dinocells are battery-like collectible devices used by the Dino Force Brave Rangers, powered by the spirits of ancient animals. They are used to power their weapons and mecha.
Individual Weapons and Team Weapon
Zandar Thunder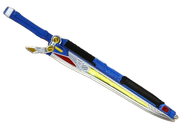 The Zandar Thunder (ザンダーサンダー, Zandā Sandā) [1] is Brave Gold Dino's personal sword weapon.

Communication Devices
Vehicles
Inventory
Transformation Devices/Sidearms
Multi-Use Devices
Individual Weapons and Team Weapon
Communication Devices
Vehicles
Behind the scenes
Portrayal
Notes
References
Trending pages
All items (2)