This page lists all the weapons, devices, and vehicles used by the Aquitian Rangers. Below is the inventory, which also reflects on the Alien Rangers series page as well as the team page of the Aquitian Rangers.
Morphing Devices
Power Coins
The Power Coins are the source of each Rangers' powers. They morph without the use of a Morpher.
Sidearms
Aquitian Saber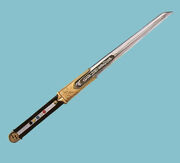 The Aquitian Sabers  were the main weapons used by the Alien Rangers in Season 3. They worked identically to the Earth-made Katana when in use, but had strange alien markings inscribed upon the blade, presumably to grant it greater cutting ability.

Aquitian Laser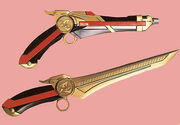 Small laser guns that could turn into a knife by removing the sheath.
Aquitian Fist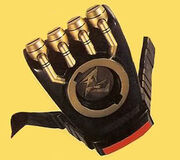 The Aquitian Fist is a knuckle device.
Inventory
Morphing Devices
Sidearms
Notes
See Also
References
All items (3)