Action figures are dolls representing a person or fictional character known for vigorous action, such as a soldier or superhero. The figure typically is posable, with jointed limbs. The term action figure originated when G.I.Joe adopted the doll formula for the classic/traditional boys toys market. These may be plastic, vinyl, rubber or metal.
The figures have points of articulation or POA which are the places the figure can move. Typical points of articulation are a ball joint, wherein one part freely moves around a ball, usually used for heads; a swivel joint which allows a piece to move up and down; and a cut joint, which allows a piece to move around its axis.
Super Sentai and Power Rangers have had a long history of Action figures, some of which cross various series/season, while others are unique in style to the particular series/season.
Cross Series Action Figures
Here is, chronologically, the history of the Super Sentai, Power Rangers toylines in terms of Action Figures.
Chogokin Style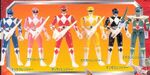 These begun in 1977 with Himitsu Sentai Gorenger. Typically, singles are sold die-cast (chogokin) in boxes, while some vehicles are sold with toys in the same style but in plastic (pladela). This carried over to Mighty Morphin Power Rangers onto some shows, where plastic figures usually accompany vehicles.
Super Big Pose Series
Originally done in Super Sentai style, then retired, the figure style returned in Mighty Morphin Power Rangers as the deluxe line, initially released a hyper poseable figures, then later as action-feature or talking toys. Eventually it made its way back to Super Sentai in subsequent series.
Auto-Morphin Figures
Begun in Mighty Morphin Power Rangers, these then spun out into other shows and eventually to Super Sentai as well.
Sentai Hero

Super Sentai traded their consitent Chogokin (metal) style figures ending with Timeranger and started releasing higher quality soft vinyl action figures with three to four points of articulation each. The series is active to this day.
Super Legends Figures
Exclusively run in Power Rangers, alongside Jungle Fury and RPM, these figures are 6" scale but later scaled further down. These were praised as being close to show accuracy in terms of build.
Re-version Figures
3.75 inch figures of Mighty Morphin Power Rangers, Power Rangers Samurai and Power Rangers Megaforce.
Action Hero
After abandoning the Action Hero line, Power Rangers shifted to the Action Hero scale from Super Megaforce to Super Ninja Steel.
Legacy
The Legacy collection is an attempt at forming multiple Power Rangers teams in what has come to be know as a premium retail effort, echoing Marvel Legends, Star Wars Black Series and DC Universe Classics. These were done in 6.5" scale.
Individual Action Figures by series
5" Figures
While standard, these figures evolve every season and are more self-contained.
Mighty Morphin - Adapts the Auto-Morphin style of body but removes the technology for a basic figure.
Zeo - Adds some bulk and light musculature. Females are still the same style as male figures.
Turbo - Modified sculpt.
In space - Adds superheroic musculature. Female sculpts are feminine.
Lost Galaxy and Lightspeed Rescue - Hip swivel joints are changed to cut joints, which open the legs at a V-angle.
Time Force - even more muscular definition. Added articulation.
Wild Force - even more muscular definition and smaller hips to drive the point. Modified articulation points.
Ninja Storm - slighty less superheroic musculature.
Dino Thunder - modified sculpt
SPD -
Mystic Force - modified sculpt
Operation Overdrive - superheroic muscle structure
Jungle Fury - leaner, more show accurate build
NOTE: RPM veered away from this scale with 4.5" figures.
Beginning with a return to MMPR, the series began to try and stay on a consistent scale, first with re-version figures, the with Action Hero scale.
Pages in this Category
Trending pages
All items (26)
Community content is available under
CC-BY-SA
unless otherwise noted.