"Yo. (.....) Sorry."
―Canary Nezilar's first words.
Canary Nezilar (カナリアネジラー, Kanaria Nejirā, 37)
Character History
A Psycho-Nezilar created and sent by an unappreciated Bibidebi as part of his scheme to defeat Megaranger and impress Dr.Hinelar, Yugande, and Shibolena. He is equipped with "exchanging beam", allowing him to swap something he had for something someone else had, like his "old man" voice for Chisato Jougasaki's voice and goofy objects for the Megarangers' weapons. Killed by Wing Mega Voyager.
Personality
to be added
Modus and Arsenal
Canary Nezilar's main ability was the Exchange Beam given to him by Bibidebi which allowed him to swap whatever he had with anything someone else had he first used it on Chisato to swap their voices then swapping 5 goofy objects he had for the other four Megarangers weapons swapping a large plastic Ice Cream Cone and a watch with Mega Red on it for Mega Red's Drill Saber and Battleraizer a Mop for Mega Black's MegaRod a Ruler for Mega Blue's MegaTomahawk and a Megaphone for Mega Pink's MegaCapture.
Notes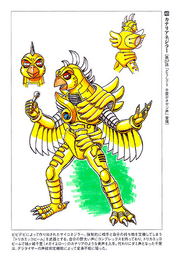 Portrayal
Conception
Behind the Scenes
Reason for being unused on Power Rangers in Space, almost all footage that involved unmorphed Chisato (MegaYellow).
Although unused in Power Rangers in Space, his story was used in the Power Rangers in Space episode "Invasion of the Body Switcher".
References
Community content is available under
CC-BY-SA
unless otherwise noted.