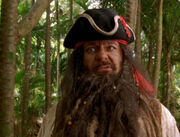 Brownbeard was a jolly crook pirate who spent his life searching for the Eye of the Sea jewel. The ghost pirate talked the team into working together with him to find the jewel. Rose could not trust him though, so she took off on her own. Brownbeard went after Rose and possessed her body. After finding the jewel, Brownbeard leaves her body and keeps the jewel for himself. Miratrix then steals the jewel from him.
He didn't know that the Eye of the Sea could harm anyone and so he apologizes to Rose. When the jewel is dropped, Brownbeard grabs it and disappears.
Back at the mansion, Brownbeard returns and gives the jewel to the team. But they discover that the Eye of the Sea jewel is not the jewel they were looking for that goes with the Sword of Neptune, so Rose gives the jewel back to the pirate. In exchange, Brownbeard gives them his Lucky Pearl, which just happens to be the first jewel of the Corona Aurora.
The team returns Brownbeard to the Caribbean Island, St. Lucia.
Rose confesses to "No Beard" that she loved being a pirate.Pirate in Pink
Brownbeard is portrayed by John Leigh.
Community content is available under
CC-BY-SA
unless otherwise noted.