"You guys, shield me!"

―Bowser ordering his Zugormin to shield him and his final words before his first death.
"That's..."

―Bowser reacting to GaoLion and his final words his destruction.
Bowser is an Action Commander with superhuman speed and a left cybernetic claw.
Biography
He is sent by Damaras to take the treasure on Animarium before the Gokaigers can find it. However, after the Action Commander is knocked off the island, Warz Gill changes Bowser's objective to conquering the city. He is defeated by the Gokaigers' Gokai Blast.
Once enlarged along with three Zugormin units, Bowser fires his left claw to lock the wheel on Gokaioh's back, but the hold is broken when the Gokaigers use the Gaoranger Keys. Bowser and the Sugormin are destroyed by Gao GokaiOh.
Super Hero Taisen
He is revived in Super Hero Taisen as a member of Dai-Zangyack. During the final battle he is seen fighting GokaiBlue, MagiBlue, Ichigou and GingaYellow.
Profile
Bowser was originally a fast, powerful alien with canine-like limbs and fangs. Insarn enhanced him with suspension for his legs and a heavy claw on his left hand.
He was in charge of "Operation Hijack the Great Power" (

大いなる力強奪作戦

Ōinaru Chikara Gōdatsu Sakusen

) which was then changed to "Operation Earth Hunting Raid" (

地球狩猟侵略作戦

Chikyū Shuryō Shinryaku Sakusen

).
Height - 203cm (Giant Form - 50.8m)
Weight - 152kg (Giant Form - 380.0t)
Behind the Scenes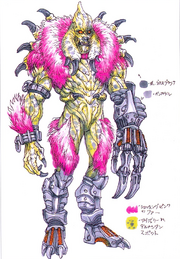 Bowser is voiced by Keikō Sakai (

酒井 敬幸

Sakai Keikō

).
He was designed by Yasushi Nirasawa.
His motifs are a combination of a spider crab and a dog.
Notes
Bowser's name is the same as the English name of King Koopa of Super Mario fame.
In Power Rangers Super Megaforce, his position in the Armada is increased to general.
Appearances
External links
See Also
Community content is available under
CC-BY-SA
unless otherwise noted.