This article is about a/an comic book publisher in the Power Rangers franchise.
Boom! Studios is an American comic book publisher founded in 2005 by Ross Richie and based in Los Angeles, California. The company publishes licensed comics such as Adventure Time and Planet of the Apes, as well as original works such as Lumberjanes or Mark Waid's Irredeemable.
Boom! is the current publisher of the Power Rangers comics since 2016.
History
MMPR, Pink Ranger spinoff, 2017 movie sequel, DC Comics crossover (2016-2017)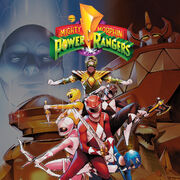 Boom! announced they acquired the comic book license to Power Rangers on June 30, 2015 with plans to focus on the first season of the TV series.[1] Their debut comic series, Mighty Morphin Power Rangers officially launched on January 13, 2016 with Issue #0 and Issue #1 in March. MMPR #1 became the second most purchased comic book that month and propelled Boom! Studios to #5 on the monthly comic company sales chart.[2] MMPR later became the highest selling comic series ever for the publisher by the 2016 summer season.[3] After reaching 100,000 sold copies of the books, Boom! celebrated by giving Power Rangers fans a spin-off Pink Ranger solo series starring Kimberly.
Ahead of the release of the 2017 Power Rangers movie, a graphic novel sequel was announced to be in the works. Power Rangers: Aftershock released on March 28, 2017 just days after the movie's box office debut.[4]
DC Comics and Boom! worked together for a six issue crossover miniseries between the Justice League and Mighty Morphin Power Rangers. The Justice League/Power Rangers mini-series began on January 11, 2017 and ended on September 27, 2017.[5]
On January 19, 2017, the company announced it would launch a mobile app for its comics, including Power Rangers, on iTunes and Google Play.[6] The app was "retired" in 2019 as the company made a business deal with Madefire to publish comics online. However, on April 30, 2021, due to the bankruptcy of the e-comic reader software developer, the entire comic publishing platform was rendered inoperable. This left thousands of comic fans unable to read books that they purchased and Madefire urged readers to download their Boom! comics to a hard drive so they would not lose them as their servers would be taken down.
Go Go Power Rangers, Soul of the Dragon, Hasbro (2017-2018)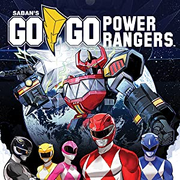 Boom! announced on April 19, 2017 a second ongoing Power Rangers comic series titled Go Go Power Rangers would be published in July. Unlike the action oriented main line of comics, this entry focuses more on each of the Mighty Morphin' Power Rangers, such as their everyday social lives, how they deal with the situations of being Rangers and events that develop them as characters.[7] Subsequent story arcs followed the aftermath of Tommy Oliver joining the team along with the events unfolding from The Power Transfer.
A second original graphic novel was announced on June 5, 2018 titled Power Rangers: Soul of the Dragon.[8] The story follows Tommy Oliver in his later years after he moved on from being a Ranger as Space Patrol Delta defends the world. Boom! collaborated with Jason David Frank on the graphic novel which released on December 5, 2018.
While originally licensed by Saban Brands, Hasbro acquired the full rights to Power Rangers along with most of the other Saban properties in an acquisition purchase in June 2018.[9][10] Hasbro became the new licensor of the current Power Rangers comics in July 2018.
The Psycho Path, TMNT crossover, Sins of the Future, Go Go ends (2019-2020)
Boom! announced their third graphic novel titled Power Rangers: The Psycho Path on March 31, 2019.[11] The story digs into the origins of the Psycho Rangers as Karone and Andros must work together to stop them. The graphic novel was released on October 9, 2019.
IDW Publishing and Boom! worked together for a five issue crossover miniseries between the Teenage Mutant Ninja Turtles and Mighty Morphin Power Rangers. Mighty Morphin Power Rangers/Teenage Mutant Ninja Turtles began on December 4, 2019 and ended on June 17, 2020.[12] This crossover would not be related to the original TMNT crossover with Power Rangers in Space and would ignore the canon established with Venus de Milo and Ninja Turtles: The Next Mutation.
On January 22, 2020, Boom! Studios announced that the Go Go Power Rangers series would end at Issue #32 on April 22, 2020, concluding with the ending of its part of the Necessary Evil story arc. However, the final issue was delayed to June 10, 2020.[13]
Boom! announced their fourth graphic novel titled Power Rangers: Sins of the Future on February 27, 2020.[14] The story acts as a sequel to Power Rangers Time Force as Jen Scotts and Wesley Collins tries to make their long-distance relationship work. The graphic novel was released on November 3, 2020.
MMPR ends, MM and PR launches, Drakkon New Dawn, PR Universe (2020-2021)
Boom! announced on July 15, 2020 that the long-running Mighty Morphin Power Rangers comic series was also coming to an end with Issue #55. However, the series would be replaced with two new ongoing relaunch titles named Mighty Morphin and Power Rangers.[15] MMPR officially ended in October 2020 and both Mighty Morphin and Power Rangers launched the following month with new Issue #1s in the kickoff to the Unlimited Power story event.
The Power Rangers: Ranger Slayer one-shot was released on July 22, 2020 which followed up with events happening in the World of the Coinless. A three-issue sequel series was also announced titled Power Rangers: Drakkon New Dawn which began on August 19, 2020 and ended on October 28, 2020.[16]
On August 20, 2021, a new limited event series titled Power Rangers Universe was announced. Set to launch in December 2021, the series delves into the deepest origins of the Power Rangers and the Phantom Ranger's connection to the Morphin Grid.[17][18]
Godzilla crossover, Countdown to Ruin, Charge To 100, MMPR/TMNT II, Recharged (2022)
On December 16, 2021, Boom! Studios and IDW Publishing revealed their second collaboration with the announcement of Godzilla vs. The Mighty Morphin Power Rangers.[19] Set to launch in March 2022, writer Cullen Bunn (Deadpool, Green Lantern, Godzilla: Cataclysm) and artist Freddie E. Williams II (Batman/Teenage Mutant Ninja Turtles, He-Man/ThunderCats) were announced as part of the creative team.
A third one-shot issue of Power Rangers Unlimited was revealed on March 18, 2022 in the June 2022 solicitations. Power Rangers Unlimited: Countdown to Ruin is a prequel to Power Rangers in Space and focuses on the origin stories of Andros and Zhane. Writer Marguerite Bennett and artist Anna Kekovsky Chandra are part of the creative team while the issue is set to release on June 29, 2022.
On April 8, 2022, Charge To 100 was revealed as the next Power Rangers crossover event following the conclusion of The Eltarian War.[20] To celebrate the 100th issue milestone, longtime writer Ryan Parrott and new writer Mat Groom are penning the issues of Power Rangers and Mighty Morphin. Boom! Studios editor Dafna Pleban promised the issues would feature even more twists, special appearances, and heartfelt moments than ever before. The event is kicking off in Mighty Morphin #18 and Power Rangers #18. The next one-shot issue of Power Rangers Unlimited titled Power Rangers Unlimited: The Death Ranger was revealed to tie into the Charge To 100 story event as well. The issue goes into the origin story of the original Omega Rangers and is slated to release on August 31, 2022 prior to Issue #100.
On June 9, 2022, Boom! Studios revealed that Charge To 100 would culminate with a special oversized issue, Mighty Morphin Power Rangers #100. They also revealed that this would be Ryan Parrott's final issue on the main series and that he would be joined by series artists Marco Renna, Moisés Hidalgo, and several all-star fan favorites as guest artists.[21][22]
Boom! Studios announced they would be attending San Diego Comic-Con in a panel titled Mighty Morphin Power Rangers: Charge To 100 and Beyond! on Thursday, July 21st at 2:00 PM in Room 25ABC. The panel included Ryan Parrott, Mat Groom, Melissa Flores, Dafna Pleban, and Allyson Gronowitz celebrating 100 issues of Power Rangers comics and discussing what is next for the series.[23] Boom! revealed that the Recharged era would be following Charge To 100 along with a new creative team made up new writer and former Director of Power Rangers Development and Production, Melissa Flores working alongside series artist Simona Di Gianfelice.[24] A sequel mini-series to MMPR/TMNT titled Mighty Morphin Power Rangers/Teenage Mutant Ninja Turtles II was also announced for release beginning in December 2022. Previous writer Ryan Parrott is returning to write the sequel alongside artist Dan Mora.[25]
List of Comic Titles
Primary Titles
Limited Series
One-Shots
Graphic Novels
References
External Links