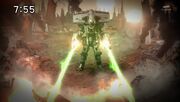 The Blood Game (ブラッドゲーム, Buraddo Gēmu) is an event held by the Deathgaliens that is spectated by their owner, Ginis. Its only rule is to amuse Ginis and whoever can do so will be rewarded. The Team Leaders who oversee the Game are the physical-pain lover Azald, emotional-pain lover Quval, and Jagged, who was killed in the initial stage of the Earth Blood Game.
Overview
Before the Blood Game can begin, a Player is sent to the planet to do some scouting. The Player who is scouting the area will cause a little bit of destruction and mayhem. The actions will then decide if the planet is worthy to be destroyed or not. Once Ginis decides that the planet is worthy to be destroyed, the Blood Game will start and the Player will begin the destruction on the planet until it is gone. A total of 99 planets have been destroyed as a result of the Game, with the Earth being the 100th target. The current Blood Game is opposed by the Zyuohgers
Earth Blood Game
Procedure
Coordinated from the Deathgaliens' starship base, the Sagittari Ark, the Game is played by Players, each selected by a Team Leader. The Player is typically accompanied by a force of Moeba foot soldiers who may pilot a fleet of Triangular fighter craft. The Game is played in turns, but if the Team Leader takes too long to find a Player the other one can take advantage by sending their own Players in the meantime.
Once a Player is defeated, they are given a Continue Medal derived from Ginis's cells by Nalia who inserts it into the Player's slot to be grown into a giant.
Notes
The Blood Games are similar to the Gegeru from Kamen Rider Kuuga, both of which involves attacking innocent humans in the form of a game. In contrast to the Gurongi, however, the Deathgaliens have an aversion of killing their victims.
Community content is available under
CC-BY-SA
unless otherwise noted.