A list of merchandise for the 8th Super Sentai series Choudenshi Bioman.[1]
Roleplay Items
Techno Brace (テクノブレス, Tekuno Buresu): The team's transformation brace with a multi-color holographic strap. Pressing the button on the face causes a LCD screen to pop up. It displays the time and an image of the Biomen and Bio Robo.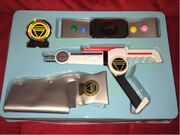 Bio Sword Box (バイオソードBOX, Baio Sōdo Bokkusu): A set that includes the Bio Sword, holster, belt with buckle, and chest badge.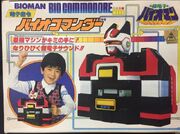 Bio Commander (バイオコマンダー, Baio Komandā): A playset based on Bio Robo's cockpit. Comes with a solid colored Red One figurine and a missile launcher that can be mounted on Bio Robo's shoulder. The cockpit features a screen with a mechanically scrolling image of the Gear army and movable a reticle. Pressing the buttons on each side lights up the reticle and plays shooting sound effects. The are also two levers that play various sound effects.

DX Mecha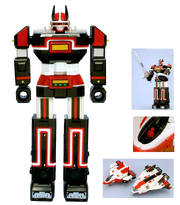 GC-13 Electronic Combination DX Chogokin Bio Robo (

GC-13 電子合体 DX 超合金 バイオロボ

GC-13 Denshi Gattai Derakkusu Chōgōkin Baio Robo

)[2]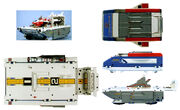 Big Scale Bio Dragon (

ビッグスケール バイオドラゴン

Biggu Sukēru Baio Doragon

)[3]
Super DX Set: Bioman Super-Electron DX Set (

超DXセット BIOMAN超電子DXセット

Chō Derakkusu Setto Baiomain Chōdenshi Derakkusu Setto

)
Box Art Gallery
Action Figures
Chogokin Figures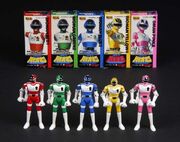 Five Chogokin Style figures that are all designated as GB-11. Each figure comes with a Bio Sword.
Red One
Green Two
Blue Three
Yellow Four
Pink Five
GC-12 Chogokin Bio Robo is the standard size Bio Robo. It cannot be separated into both Bio Jets, but can be transformed into a jet mode. It includes the Super-Maser sword and Bio Shield. It was later released overseas as under Bandai America's "Godaikin" label.

Play Vehicles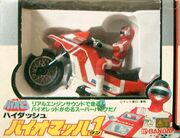 High Dash Bio Mach 1 (ハイダッシュ バイオマッハ1, Hai Dasshu Baio Mahha Wan): A self-propelled motorcycle toy. A Red One figure in a fixed riding position is included.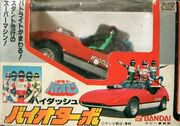 High Dash Bio Turbo (ハイダッシュ バイオターボ, Hai Dasshu Baio Tābo): A self-propelled toy vehicle. The siren on top rotates in conjunction with the rear wheels. Three solid-colored figures of Green Two, Blue Three, and Pink Five in sitting positions are included.

Popinica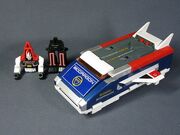 DX Popinica PC-44 Bio Dragon (DX ポピニカ バイオドラゴン, Derakkusu Popinika Baio Doragon): A small scale version of the carrier mecha. A mini figure of Bio Robo is included and can be separated into two pieces. Bio Dragon has wheeled tank treads that can be folded up for flight mode. Missile launchers are located on the wings and the top can be opened to reveal the launch pad.

PlaDelu (Plastic Deluxe) Mecha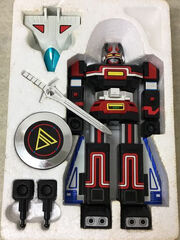 PlaDelu Bio Robo (プラデラ バイオロボ, Puradera Baio Robo): A non-transforming figure of Bio Robo. It has a rocket punch gimmick and the nose of Bio Jet 1 is a separate part that can be folded over Bio Robo's head to make a aircraft mode. It includes accessories of the Super-Maser sword and Bio Shield.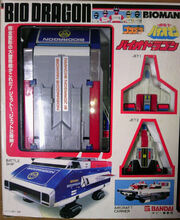 PlaDelu Bio Dragon (プラデラ バイオドラゴン, Puradera Baio Doragon): A small version of the team's aircraft carrier. It comes with mini versions of the Bio Jets that can be launched from Bio Dragon.

R/C Toys
Radio Control Bio Robo: A remote-controlled figure of Bio Robo with walking action. It also has a rocket punch gimmick and comes with the Super-Mazer.

Sentai Robo Collection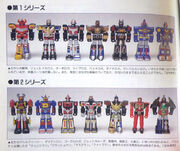 Released through 1992 and 1993, the Sentai Robo Collection (戦隊ロボコレクション, Sentai Robo Korekushon) was a line of 8.5 cm die-cast figures of the then-current and past Sentai robots. Bio Robo was released in wave 1.

Medicom's Real Action Heroes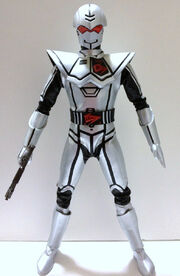 Medicom released Bio Hunter Silva as part of their "Real Action Heroes" line of 1/6 scale figures in 1995. The figure is outfitted in a pleather costume and comes with the Bi-Buster and two left hands.

Vinyl Figures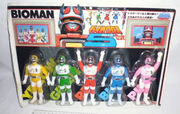 Bio Cross 5 Set (バイオクロス5セット, Baio Kurosu Faibu Setto): A set of five 12 centimeter tall Bioman soft vinyl figures.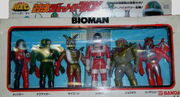 Junoid Showdown Box (対決ジューノイドBOX, Taiketsu Jūnoido Bokkusu): A figure set of Neo Empire Gear villains and Red One. It includes Psygorn, Mettzler, Zyuoh, Aquaiger, and Messerjū.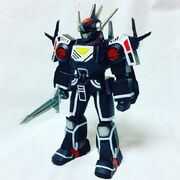 Balzion: A 27 centimeter tall vinyl figure of Bio Hunter Silva's robot. It was produced by Rainbow Modeling in 2017 and released as a Toei Hero Net exclusive. It includes the Balzion Mezer.

Miscellaneous
1/400 Scale Bio Robo was a plastic model kit released as part of Bandai's "IroPla" series.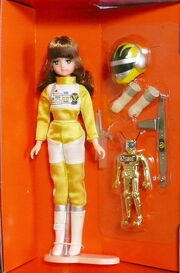 Bio Girls (バイオガール, Baio Gāru) are two dress-up dolls of Yellow Four and Pink Five. They come with their Bioman suits and a mini figure of Peebo.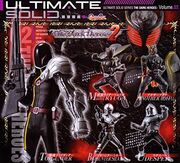 Bio Hunter Silva was featured as part of Ultimate Solid: The Dark Heroes 2 (アルティメットソリッド ザ・ダークヒーローズ2, Arutimetto Soriddo Za Dāku Hīrōzu 2), a gashapon set released by Bandai in 2009.

Girls in Uniform (ガールズ・イン・ユニフォーム, Gāruzu in Yunifōmu) was a line of statuettes of heroines and villainesses released by Bandai. Farrahcat was released in volume 3.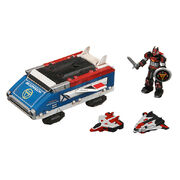 Cosmo Fleet EX Super Sentai Ranger Mechanix (コスモフリートコレクションEX スーパー戦隊 レンジャーメカニクス, Kosumo Furīto Korekushon EX Sūpā Sentai Renjā Mekanikusu) is a line of mini Mecha figures that was produced by Megahouse in 2012. Each set came with an 8 to 9 centimeter tall robot figure and a carrier mech. The Bioman set includes Bio Robo, Bio Dragon, and Bio Jets 1 and 2. Special metallic versions were later released in 2013.

References
Community content is available under
CC-BY-SA
unless otherwise noted.