Beasts Unleashed is the first and premiere episode of Power Rangers Beast Morphers. This episode features the introduction of the Morph-X technology as well as debuts of the Red, Blue, and Yellow Beast Morphers Rangers.
Synopsis
Scientists tap into the Morphin Grid, but an evil virus corrupts the technology and a new team of Power Rangers is formed to defend the Grid from evil.
Plot
Cast
Errors
The positioning of Devon, Ravi, and Zoey change when Roxy's evil clone traps them in tentacles. 
The connection was of the Morph-X tube was cut during the attack on the base, which leads the vieer to wonder how Nate was able to reinitialize the Morph.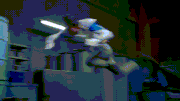 When Ravi gets knocked down, the glasses on the Beast-X Morpher get knocked out as he falls.
When Blaze's evil avatar puts on his helmet, the camera doesn't properly cut to convince the viewer that he is actually putting the helmet on. He instead places in front of his face, past his neck. 
Notes
See Also
References