Battle Megas (バトルメガス, Batorumegasu, 38) is a Neo Mecha-Gigan of Neo Empire Gear, piloted by Farrah.
Overview
A combat-ready Neo Mecha-Gigan armed with lasers from the eye, a pair of torso cannons, a shield on the left arm, a right hand blade, and four missile launchers on each shoulder called the Battle Missiles.
History
Battle Megas was mainly used as part of a measure to trick Bio Hunter Silva to approach them for his capture by making him believe that it was his lost mecha Balzion. After Silva's capture, Bioman face the mecha and defeat it with the Bio Particle Cut.
Notes
to be added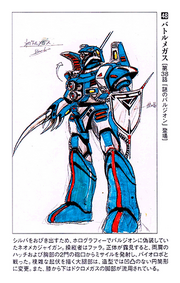 References
Community content is available under
CC-BY-SA
unless otherwise noted.