A list of merchandise for the 3rd Super Sentai series Battle Fever J.[1]
Roleplay Items
Mecha
1979
Chogokin GB-03 Battle Fever Robo (超合金 GB-03 バトルフィーバーロボ, Chogokin GB-03 Battle Fever Robo)[2]: The first giant robot toy to be created for the Super Sentai series. It stands approximately 16 centimeters tall, has missile and fist launching gimmicks, and comes with a wide variety of accessories. It has no transforming capabilities like future Super Sentai mecha.
The original Battle Fever Robo was re-released in 1984, 1986, and 1988 under the Bandai label.

Popynica PB-83 Battle Shark (ポピニカ PB-83 バトルシャーク, Popynica PB-83 Battle Shark) is a small scale version of the Battle Shark. It includes a non-posable Battle Fever Robo figure that can be loaded inside.

Popynica New DX Battle Shark (ポピニカ NEW DX バトルシャーク, Popynica New DX Battle Shark) is a version of Battle Shark that is scaled to be compatible with the DX Battle Fever Robo. It is similar in size with the "Big Scale" line of carrier mecha that would be introduced with Sun Vulcan's Jaguar Vulcan. It has missile launching gimmicks and is packaged with mini Egos figures and a replica of the Kaijin Manufacturing Capsule.

Battle Combination 2 (バトルコンビネーション2, Battle Combination 2)[3] is a bundle of GB-03 Battle Fever Robo and the New DX Battle Shark.

1993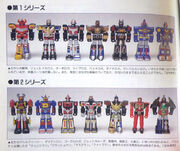 Released through 1992 and 1993, the Sentai Robo Collection (戦隊ロボコレクション, Sentai Robo Korekushon) was a line of 8.5 cm die-cast figures of the then-current and past Sentai robots. Battle Fever Robo was released in wave 2.

2006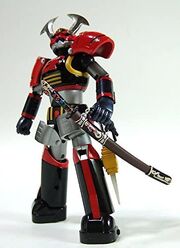 To commemorate Super Sentai's 30th anniversary, Bandai produced a new Chogokin Battle Fever Robo for the Soul of Chogokin line. It is slightly taller than the original DX version and is modeled to resemble the costume used onscreen. It is packaged with eight diecast accessories: The Lightning Sword, Stick Attacker, Cane Knocker, Knuckle Punchers, Sword Fever, Attack Lancer, Fever Axe, and Battle Shield. The accessories can be mounted on a display stand that is also included.

Action Figures
1979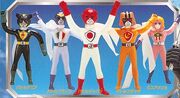 Five Heroes (5人の勇士, Gonin no Yūshi) is a set of five bendable figures. It includes Battle Kenya, Battle France, Battle Japan, Battle Cossack, and Miss America.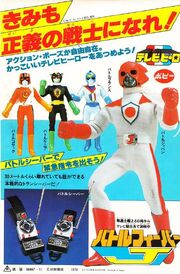 The TV Hero Series (テレビヒーローシリーズ, Terebi Hīrō Shirīzu) was a line of superhero figures produced by Popy. The figures came with fabric costumes and removable gloves and boots. For Battle Fever J, only the four male team members were created.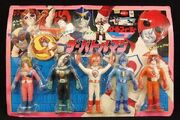 The Battlemen (ザ・バトルマン, Za Batoruman) is a set of five 13 centimeter tall soft Vinyl figures.

2003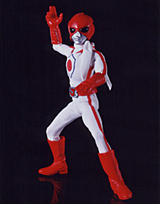 In 2003, Medicom produced a Battle Japan figure for their 1/6 scale Real Action Heroes line. The figure is outfitted in a jersey fabric suit, comes with three pairs of hands, a Command Bat, and spear.

Miscellaneous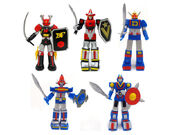 In 1999, Bandai produced the gashapon set HG Series EX Super Sentai Robot Chronicle (HGシリーズ EX スーパー戦隊ロボット列伝, Echi Jī Shirīzu Ekusutora Sūpā Sentai Robotto Retsuden). It was a collection of the first five Super Sentai giant robots: Battle Fever Robo, DaiDenzin, Sun Vulcan Robo, Goggle Robo, and Dyna Robo.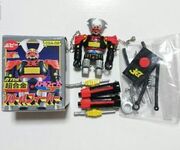 Bandai Capsule Chogokin is a gashapon line of miniature versions of Chogokin figures that were produced by Popy in the 1970's and 80's. Battle Fever Robo was included in the second wave released in 2002.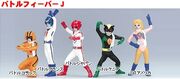 CharaEgg Sentai Hero Series (キャラエッグ 戦隊ヒーローシリーズ, CharaEgg Sentai Hero Series) was a line of mini figures in blind boxes released in 2003. This set consisted of 15 different figures, including the Battle Fever team along with the Gorenger and JAKQ teams.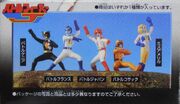 Toei Tokusatsu Chronicle (東映特撮クロニクル, Toei Tokusatsu Chronicle) was a short-lived line of Super Sentai and Kamen Rider mini figures packaged in blind boxes. A wave consisting of the Battle Fever J and Gorenger teams was released in 2003.

Cosmo Fleet EX Super Sentai Ranger Mechanix (コスモフリートコレクションEX スーパー戦隊 レンジャーメカニクス, Kosumo Furīto Korekushon EX Sūpā Sentai Renjā Mekanikusu) is a line of mini Mecha figures that was produced by Megahouse in 2012. Each set came with an 8 to 9 centimeter tall robot figure and a carrier mech. The Battle Fever J set includes Battle Fever Robo and Battle Shark. Metallic versions were later released in 2013.

References
Community content is available under
CC-BY-SA
unless otherwise noted.