Barbarax was a menacing enforcer and slave driver who serves as the right-hand man of Captain Mutiny. He wielded a large battle axe that was capable of emitting energy charges through the ground. He was destroyed, alongside his captain, by Trakeena when she obliterated Mutiny's fortress.
Powers and abilities
Strength-Barbarax was so strong that, when searching for Grunchor in the episode "Grunchor On The Loose", a single swing of his axe shook up the subway and made the ceiling crack despite him being above ground. He can also swing around this giant and presumably very heavy battle axe with relative ease.
Armor-Barbarax wears strong armor that was durable enough to be shot in the hand by Damon's Trans Blaster after that axe attack, which only made him drop his axe although he was ultimately unhurt.
Eye Lasers: Barbarax can fire blue energy lasers from his eyes.
Mouth Flame Laser: Barbarax can spew out red energy lasers with flames from his "mouth".
Teleportation: Barbarax can teleport at will.
Arsenal
Battle Axe-Barbarax wields a massive battle axe to aid him in combat that can release energy charges through the ground and cause earthquakes.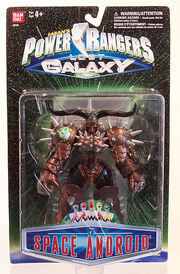 Notes
Appearances
See Also
Community content is available under
CC-BY-SA
unless otherwise noted.