Spider-Man: No Way Home Trailer Dropped - The Loop
Play Sound
"Psycho Blue!"
―Psycho Blue's roll call
Psycho Blue is the Blue Ranger of the Psycho Rangers, later taking the name Axe.
He is also referred to as Blue Psycho Ranger - a variation on his in-show label.
Character History
This article contains content in reference to the main TV series, as well as supplemental material, such as the comics. A sliding/floating timeline applies. Story instances for TV and other media will be clearly marked.
Astronema created the Psycho Rangers, including Blue, from individuals she destroyed and used as raw materials. Dark Specter gave her the ability to do so. After "making" them. They became staunchly loyal to their "mother".

TV STORY-Power Rangers: The Psycho Path He was based on the brain wave patterns of TJ and knew his strategies and weaponry.
He was possibly the cruelest and most brutal of the team. He almost killed, T.J. but Astronema pulled him out of the battle. Psycho Blue used the Psycho Axe and had a crystalline ice monster form, which was destroyed by the Winged Mega Voyager's V3 Missile Attack.
After his first destruction, Psycho Blue's ghost joined the Psycho Rangers into attacking the Space Rangers at Secret City.

TV STORY-Mission to Secret City He was put on a digital card and sent to an unknown planet.

TV STORY-Ghosts in the Machine
In "Countdown to Destruction", Psycho Blue's monster form was seen in the armies of Rita Repulsa and Lord Zedd.
Lost Galaxy
Deviot later found him a year later. He resurrected Psycho Blue and Blue went after Kai Chen on Terra Venture, seeking revenge and achieving it on the nearest Blue Ranger. However, the Space and Lost Galaxy Rangers managed to destroy Psycho Blue for good.
Lightspeed Rescue
In "The Fate Of Lightspeed" Pt 2, Psycho Blue's monster form was seen in the Shadow World.
Shattered Grid
During the events of Shattered Grid, Psycho Blue was recruited by Lord Drakkon for the takeover of Corinth. 
The Psycho Path
Following his rebirth at the hands of Trek, Blue becomes easily the most indifferent of the Psycho Rangers. This can be seen in his naming himself after his weapon of choice (Axe), his disregard for his identity before being made into a Psycho Ranger, and even in his lessons from Karone. He appears to have a more go-with-the-flow attitude towards life, improving himself mostly out of loyalty to his family, and essentially not caring what happens for the most part. He has a sense of fair play in sparring, as he retaliated aggressively after being shot in the back by Yellow, asking for his ax, and indulging in playful combat with his siblings. In his spare time, he has been seen affectionately performing maintenance on his ax. Additionally, he seems to be the most straightforward and brutal in his approach to combat, but remains willing to submit to the chain of command despite his sometimes belligerent attitude. 

COMIC STORY- Power Rangers: The Psycho Path
Beast Morphers
He was shown along with the other Psycho Rangers when the villains were looking for a past villain to revive with the Reanimizer, and came across Psycho Red,.

TV STORY-Making Bad
Power Rangers Legacy Wars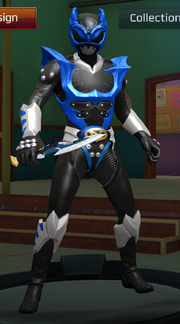 Axe as Psycho Blue appears as alternate skin for Trek/Psycho Green , who feature in Power Rangers Legacy Wars.
Personality
Psycho Blue's personality traits are as follows.
Depraved: He is the evil counterpart of the Blue Ranger.
Devious: He is willing to do anything detestable to achieve his ends that includes stabbing his own team in the back.
Cold-Hearted/Blooded: He has a frigid disregard toward others including his own team.
Sadistic: He takes cruel pleasure from the maniacal borderline homicidal acts he commits.
Pretentious: He has an inflated sense of his own prowess to a delusional level.
Disdainful: He has shown he has clear enmity towards outside interference.
Obsessive: He has shown a vicious single minded power-hungry focus toward the Blue Ranger.
In conclusion, Psycho Blue has a Psychotic disposition.
Forms
Powers and Abilities
Powers
to be added
Abilities
to be added
Weaknesses
to be added
Arsenal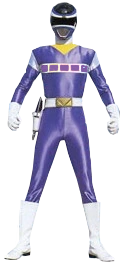 Powers and Abilities
Powers
to be added
Abilities
to be added
Weaknesses
to be added
Arsenal
Behind the Scenes
Portrayal
Design
to be added
Etymology
to be added
Notes
Psycho Blue is the only Psycho Ranger to grow into a giant through a Satellaser.
Appearances
See Also
References