"The swamp Swimmer! Green Hippopotamus!"
―Green Hippopotamus's roll call[src]
Atsushi Domyoji (道明寺 アツシ, Dōmyōji Atsushi) is Green Hippopotamus (グリーンヒポポタマス, Gurīn Hipopotamasu) of the Dobutsu Sentai Go-Busters. He is the 6th Ranger of the team.
History
"Take...take care of the rest, Hiromu."
―Atsushi's final words before his death[src]
Atsushi Domyoji appeared to the Go-Busters in the heat of battle one day, surprising them that he's their sixth member. (In "episode 15" of the "series") He transformed into Green Hippopotamus. It is implied that he began somehow vying for the affections of Yoko and became Hiromu's rival. He was killed in battle more than midway through their year-long struggle against the enemy. He eventually dies in Hiromu's arms, telling him to take care of Yoko. (in "episode 37" of the series)
Personality
to be added
Green Hippopotamus
Powers and Abilities
Powers
to be added
Attacks
to be added
Abilities
to be added
Weaknesses
to be added
Arsenal
Mecha
to be added
Appearances: This form is exclusive to Tokumei Sentai Go-Busters Returns vs. Dōbutsu Sentai Go-Busters.
Behind the Scenes
Portrayal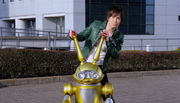 Atsushi Domyoji is portrayed by Tatsuhisa Suzuki (鈴木 達央, Suzuki Tatsuhisa), who voices Usada Lettuce. As Green Hippopotamus, he is portrayed by an unidentified suit actor.
Design
to be added
Etymology
to be added'
Ranger Key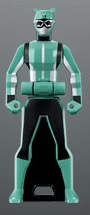 The Green Hippopotamus Ranger Key (グリーンヒポポタマスレンジャーキー, Gurīn Hipopotamasu Renjā Kī) is a Ranger Key released as part of the Ranger Key Set: LOST EDITION. It is unknown if it will appear in a future crossover. Of course as with all Ranger Keys, should it exist, it would be able to transform one, i.e. Gokai Silver, into Green Hippopotamus.
Notes
He is the first and currently only hippopotamus-themed Ranger.
He is the only member of Dobutsu Sentai Go-Busters who does not have a counterpart in the main Go-Busters universe. Furthermore, his character was not adapted into Power Rangers Beast Morphers.
His helmet is a repaint of the helmet of Blue Buster/Blue Gorilla, with added ears.
Appearances
Super Sentai Battle Base
Green Hippopotamus is among the vast pantheon of Rangers which are avaliable in the mobile game
Super Sentai Battle Base
.
References