"The Vigorous Knight! Ryusoul Pink!"

―Ryusoul Pink's roll call
Asuna (アスナ, Asuna) is Ryusoul Pink, the Pink Ranger of the Ryusoulgers. She is 209 years old. [1]
Character History
to be added
Personality
Asuna is a kind, compassionate girl with a jolly & bubbly personality. She exhibits much more decisiveness & courage when it comes to decision making, and dislikes being teased by Koh for having monstrous strength. She is also friendly & outgoing, attempting to make conversation with the stoic Bamba when searching for the Kishiryu together, only to be ignored by him. She also appears to be closest to Ui, the only other girl in the Tatsui household.
Typical for someone perferring strength tactics, she often ignores small details and prefers brute strength. She is also a heavy eater, anything about food getting her attention.

Powers and Abilities
Ryusoul Tribesman Physiology

Longevity

Ryusoul tribespeople age very slowly and can live for hundred years.

Superhuman Strength

Asuna is very strong, even more than her fellow tribesmen. She was able to violently push Koh meters away with just a simple gesture.
Devil's Luck

Asuna's clumpsy and brutal actions usually lead to unexpectedly convenient and beneficial results for the Ryusoulgers.
Ryusoul Pink
"Que bom! Wassei Wassei! Saa! Saa! Saa! Wassei Wassei! Sore sore sore sore! Ryusoul Cool! (laughing)"

―Transformation announcement via Ryusoul Changer
Arsenal
Mecha
Video Game Appearances
Super Sentai Legend Wars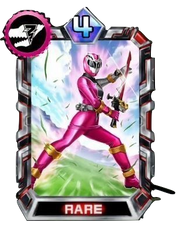 Ryusoul Pink appears with his team among all Sentai in the mobile game Super Sentai Legend Wars.
Behind the Scenes
Portrayal
Notes
Appearances
References
Community content is available under
CC-BY-SA
unless otherwise noted.