Wiki Targeted (Entertainment)
Play Sound

Would it not be wise to be more specific in your quest for knowledge?
This is a disambiguation page, which is not an article, but rather a list of articles with similar names. If a link within RangerWiki or the Tokupedia Hub brought you here, please consider editing that link to point to the specific article that it references.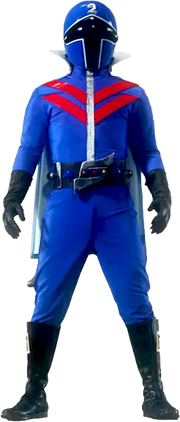 Aorenger (アオレンジャー, Ao Renjā, Blue Ranger) can refer to:
Aorenger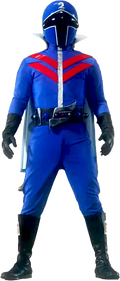 As Aorenger he is the designated second-in-command. He pilots most of the Gorenger sky vehicles such as "Variblune " and "Varidreen." He is armed with the super bow "Blue Cherry" and "Ultra Blue Cherry" which can fire specially designed arrows (Blue Arrows and Blue Arrow Rockets). He also drove the super motorcycle "Blue Machine" and later the "Blue Star."
Installed on Aorenger's suit is the Lightning Rod, which appears as a metal rod at the top of the helmet. Once deployed via a switch on the belt, it allows Aorenger to absorb electricity-based attacks, such as those from Lamprey Mask. TV STORY-Ep. 25: Crimson Fuse! Lamprey Torpedo Attack
Arsenal
Techniques
Legendary Ranger Devices

The Aorenger Ranger Key (アオレンジャーレンジャーキー, Ao Renjā Renjā Kī) is Akira Shinmei's personal Ranger Key and what became of his powers after he along with the rest of the 34 Super Sentai sacrificed their powers to end the Great Legend War.
This key along with the majority of the Ranger Keys were collected by the Red Pirates and later used by the Gokaigers. The Aorenger Ranger Key was mainly used by Joe Gibken (Gokai Blue), who used it to fight as Aorenger. Gai Ikari (Gokai Silver) also became Aorenger on one occasion.
The Gorenger keys, along with all the Ranger Keys of the first 33 Super Sentai, were briefly taken by the Black Cross King and turned into Ranger puppets that were fought by the Gokaigers and the Goseigers. At the start of the battle, the Gorengers had a brief skirmish with the two teams alongside the keys of three recent teams, the Gekirangers, Go-Ongers, and Shinkengers. The Gorengers appeared again after all the other puppets were defeated, with a Gorenger Hurricane ball being kicked at Gokai Red and Super Gosei Red. The Gorengers stood behind the three recent teams who fired their cannons at the Gokaigers and Goseigers, who countered with their team finishers, taking down the three teams as Gokai Red and Super Gosei Red finished off the fake Gorengers.

TV STORY-Gokaiger Goseiger Super Sentai 199 Hero Great Battle
After Zangyack were finally defeated, the Gokaigers gave the Ranger Keys back to their rightful owners. Akira received his key and became Aorenger once more.

TV STORY-Final Ep.: Farewell Space Pirates
Derivatives
Appearances
See also
Community content is available under
CC-BY-SA
unless otherwise noted.