Anubis "Doggie" Cruger is a Sirian and the commander of Space Patrol Delta's Earth Base who later becomes the S.P.D. Shadow Ranger after the emergence of General Benaag. Two years after the series' end, he became the Supreme Commander of SPD after Fowler Birdie's retirement.
History
This article contains content in reference to the main TV series, as well as supplemental material, such as the comics. A sliding/floating timeline applies. Story instances for TV and other media will be clearly marked.
Early Life
He met his wife Isinia while both of them were members of the first S.P.D. in their home planet Sirius, they fell in love and got married. Early on, Doggie's affections for Isinia were challenged by his rival Icthior, but Isinia could never love Icthior due to his lack of honor.
Lost Planet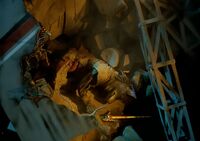 Years ago, Emperor Gruumm attacked the planet of Sirius with his Troobian forces. Cruger, along with his fellow Sirians, banded together to form a fighting force against the attacking evil, they formed the first Space Patrol Delta. However, as valiantly as they fought, they lost and Sirius was destroyed. During the battle, General Benagg led the attack on Cruger's squad. Also, Commander Cruger's wife, Isinia, was also lost. Believing that Doggie Cruger had been eliminated, he was left on the planet. However, once Cruger awoke, he found his planet barren and all other Sirians were destroyed.
Trial of Astronema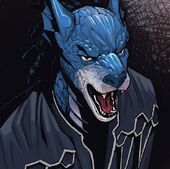 Cruger was present at the trial of Karone (formerly known as Astronema) and gives his testimony by saying that while he has nothing but respect and admiration for the Power Rangers and would never speak ill of them, Karone is undeserving of such a title as the Pink Galaxy Ranger for what she has done.
He tells the court that when his people refused to ally with Astronema and raised the shield around Sirius, she stole the codes to deactivate the shield and rather than use it herself, she decided to give the Sirians a slow and painful demise by giving the codes to an alien with a grudge against Sirius named Emperor Gruumm. Anubis lost his wife during the fall of his world and still feels bitter over what Astronema did.

COMIC STORY- Mighty Morphin Power Rangers Anniversary Special
S.P.D. Commander
Doggie then left for Earth where he became the Commander of Space Patrol Delta. Cruger also acted as the mentor of the A-Squad Power Rangers. He then chose the S.P.D. B-Squad Rangers: Jack Landors as Red Ranger, Schuyler Tate as Blue Ranger, Bridge Carson as Green Ranger, Z Delgado as Yellow Ranger, and Sydney Drew as Pink Ranger, to take the place of the A-Squad who had become missing in action. Cruger advised the B-Squad in their year-long battle with Gruumm and his Troobian forces.
Meeting HyperForce
When the HyperForce Rangers travel to 2025, they pose as S.P.D. officers in order to try to find the location of Joe Shih. Cruger questions the Rangers' motives and truthfulness, but eventually allows them to investigate with Lina Song.
After the investigation goes badly, Cruger arrests and individually interrogates all of the Rangers, to which they admit that they are from the year 3016 on a secret mission. The Rangers are released when Napoleon Wrench's Proton Accelerator is activated, so that they may aid in the fight.

TV STORY-SPD Emergency
Ranger of the Shadows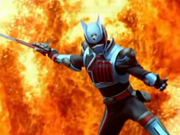 When General Benagg showed up on Earth, it brought back horrible memories and tough emotions for Commander Cruger. At first he did not want to face them, but with the help of the B-Squad Rangers and Kat Manx, Commander Cruger took on his past and Benagg. Kat had made Doggie a new compact device, S.P.D. Patrol Morpher, allowing him to morph into the S.P.D. Shadow Ranger.

TV STORY-Shadow
Swordsmanship lessons
During a training session with Jack, Cruger claims to be holding back as it wasn't a battle, but a lesson in swordsmanship, after a few hits, Doggie defeats Jack, saying that it was enough for the day, when Jack attempts to surprise attack Cruger while his back is turned, the Commander breaks Jack's sword. After they demorph, Jack says that if he had Cruger's Shadow Saber he could probably beat him, but he disagrees, saying that even if he gives him his sword and took what was left of his, he'll still defeat Jack, due to his arrogance and his belief that is the sword what makes the difference and not the swordsman.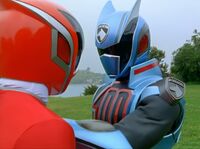 After Gruumm brings and alien Samurai from the past, Cruger sends the Rangers to Kyoto, Japan in order to solve the problem. When a giant robot appears in Kyoto Cruger tells Kat about it and Kat says that she can transport the Delta Base to Kyoto but also informs him that by transporting the Delta Base, they will leave Newtech City completely defenseless. Cruger answers saying that he understands the risk but they can't afford to let Gruumm get a foothold anywhere on Earth, the Delta Base transforms and leaves Newtech City with the rangers summoning the Delta Runners and combining to battle the giant robot. Cruger sends Jack to find Katana in order to find Gruumm's true motives, but Jack tells Doggie to give him the Shadow Saber, saying that Katana is a great master and he easily beat all five rangers, Cruger tells Jack that he doesn't need his sword and all is in his head, but Jack demands the saber, saying that they have little time. Cruger gives him some sword, saying that it is a Shadow Saber.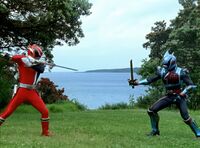 Jack eventually beats Katana and sends him back to his time while the Rangers beat the giant robot, later, Jack and Commander Cruger meet outside, worth Cruger telling Jack that he did not give him the Shadow Saber as the saber reverts to its true form in Jack's hands. Jack is upset that Commander Cruger let him take on the most powerful Samurai in the history with an ordinary sword. but the Commander points out that Jack won and challenges him to another lesson. They both suit up and begin to duel.

TV STORY-Samurai
Clashing with Fowler Birdie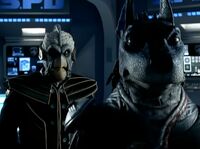 During Commander Fowler Birdie's arrival on the Earth Station Headquarters (which Cruger was not looking forward to), he's not impressed by the Rangers. After witnessing a battle and despite the Rangers's victory, the Supreme Commander sees fault with everything the Rangers did and feels that the robot should have never been able to enter the city in the first place. Birdie wanted the Rangers split up which Cruger feels is too dangerous and refuses to split the Rangers, Birdie responds by relieving Commander Cruger of his position. Later, the cadets are assembled once again by Cruger, who gives a small speech before leaving.
After Birdie sends Jack, Sky, and Bridge to investigate an energy source, it turns out to be Emperor Gruumm, the villain defeats the three Rangers and tells them that he's ready to battle Commander Cruger, Supreme Commander Birdie then comes to the conclusion that if you want something done right, you have to do it yourself and goes alone to fight with Gruumm, but Birdie is soon defeated and Emperor Gruumm is not happy.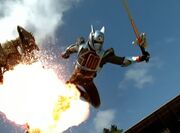 Jack later finds Cruger and tells him about Gruumm's message, saying that he's waiting for him, Cruger returns to the command center and finds Kat monitoring Supreme Commander Birdie's battle, with Doggie thinking that Birdie is a fool and later reluctantly following Kat, as she has something for him. Cruger then goes to rescue Birdie on his ATV and soon the Shadow Ranger and Gruumm battle, Doggie manages to defeat Gruumm with him saying that he has won this round before vanishing, Cruger joins the rest of the Rangers and Supreme Commander Birdie decides to reinstate him, saying that he will no longer interfere and that Earth is counting on him.

TV STORY-Dismissed
Meeting the Dino Ranger
When Broodwing uses the Dino Gems to bring the Dino Rangers to the future where they meet the S.P.D. Rangers. Cruger insists that the Dino Rangers remain in the Delta Base to avoid problems with the timeline because if anything happens to them, their future might not exist. Cruger then joins his team as the Shadow Ranger but when Emperor Gruumm launches his biggest attack yet, Conner, Kira and Ethan assist the S.P.D Rangers. All ten Rangers come together to celebrate their victory over Gruumm, the Dino Rangers want to stay and help out, but the S.P.D. Rangers convince them that they will go on to lead exciting and significant lives. After that, the Dino Rangers have their memories wiped in order to prevent them from knowing too much about their futures and are sent back to their time.

TV STORY-History
Into the wormhole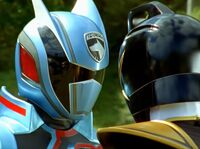 After learning that Gruumm traveled through a wormhole to conquer Earth twenty-one years early without any interference, Cruger sends Jack, Bridge and Z on a mission to follow Gruumm through the wormhole. Realizing that the wormhole is closing, Doggie prepares to go after his three cadets and warn them, with Sky and Syd tagging along so they have a better chance of stopping Gruumm's forces. While in the past, the three S.P.D. Rangers along with the Dino Rangers fight against the combined armies of Zeltrax and Grumm, Cruger and the rest of the team join in on the fight, with Doggie meeting Tommy Oliver for the first time and teaming up with him in order to defeat Zeltrax just before he retreats. As the Dino Rangers assemble the Z-Rex Blaster, Cruger and his team assemble the Canine Cannon to finish off the remaining foot soldiers. Before the S.P.D. Rangers return to the future, Doggie erases their and the Dino Rangers' memories.

TV STORY-Wormhole
Last Battles
As the Shadow Ranger, Cruger helped his Rangers in battle, but he was still haunted by what had transpired on Sirius. When he fought Icthior, the monster told Cruger that Isinia was still alive. Cruger did not believe the word of the criminal. However, after Cruger was captured by the A-Squad and turned over to Emperor Gruumm, he was shown that Isinia was indeed alive. She had been captured by Gruumm during the battle on Sirius. When Jack took time off to help the homeless without checking in with headquarters Doggie demanded that Jack tell him where he had been and what he had been doing only to be shocked when Jack bluntly explained that what he had been doing in his free time was none of Cruger's business.
When the A-Squad Rangers returned, Cruger returned to using them as the main Rangers, debriefing them ahead of B-Squad who believed they'd go back to being Zord cleanup detail and the reserves, but it is likely that he merely did this out of procedure as Kat told B-Squad that Cruger had once told her that B-Squad were the best Rangers he'd ever worked with and he was proud to serve with them. A-Squad ended up proving to be evil and captured Cruger, taking him to Gruumm's ship where he is briefly reunited with Isinia and later B-Squad when they are captured.
Thanks to the help of Piggy, Cruger and the B-Squad managed to escape. While the B-Squad went to fight off Omni in his Magnificence Body, Cruger went to get his wife back. Cruger faced against Mora and easily defeated and contained her, then he went up against Gruumm. Cruger defeated Gruumm, who apparently fell to his death and he and Isinia were finally reunited.
During the battle with Omni, Kat contacted Cruger as she had found a weakness in the Magnificence. In order for the Rangers to utilize it, Cruger had to open up a panel in the Magnificence, but likely wouldn't survive the destruction. Even knowing this, Cruger made the decision to possibly sacrifice himself to stop the threat. Cruger opened up the panel, allowing the S.W.A.T. Megazord to fire a blast through it that destroyed the Magnificence. Both Commander Cruger and Isinia were thought to have been lost, but they emerged out of the rubble and were not harmed. But before the celebration could begin, Gruumm too came out of the wreckage. Even though the Rangers offered their help, Cruger decided to battle Gruumm himself, unmorphed. Cruger easily defeated Gruumm who ordered him to finish him off. Cruger instead cut off the top Gruumm's horn and after mocking him, contained him and celebrated the victory with everyone.
Promotion Time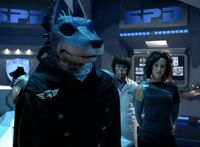 Commander Cruger remained at S.P.D. Earth Station as Commander, though he did receive a new uniform. He watched as the Omega and Nova Rangers went home and after checking that Sky would follow the orders of anyone who was made as the new Red Ranger as Jack was leaving, promoted him to Red Ranger status.

TV STORY-Endings Soon, however, he became the new Supreme Commander of S.P.D. after Fowler Birdie retired; Cruger chose Sky as the new commander, passing on the Red Ranger powers over to Bridge, which he uses in Once A Ranger. Doggie's new status is briefly mentioned by Bridge Carson after traveling to the past to aid the Overdrive Rangers, explaining that Anubis was the new director of S.P.D.

TV STORY-Once a Ranger
Cruger was not shown to have fought in the final battle between the Legendary Rangers and the Armada despite the fact that his cadets fought in there. Given his Sentai counterpart fought in the Legend War, it is entirely possible that he did indeed fight elsewhere.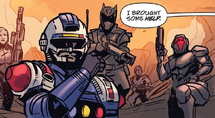 Cruger joined with several Space Patrol Delta officers to assist Tommy Oliver in rescuing his son J.J. from the witch Scorpina, engaging her forces in a battle which saw Scorpina dragged back to the Talos Dimension by her master Lokar while the remaining gang members were taken into custody by the Blue Senturion and his fellow police officers.

TV STORY-Power Rangers: Soul of the Dragon

Split History
Shattered Grid
Drakkon Arrives
On a different timeline at some unknown point during his time as the commander of the B-Squad, Cruger was lecturing the C-Squad Rangers after they were defeated in a combat exercise by the B-Squad Rangers, saying that teamwork is more important than the Morphers, and how that is the root of success on S.P.D.. As he is about to punish the B-Squad for snarky comments, a portal opens with Drakkon's army coming through led by the new Green Zeo Sentries in their exo-suit tanks.
After realizing that they're not with Gruumm, Cruger tells the C-Squad to get back to HQ and tells the B-Squad to prepare themselves as well as to focus, the whole team then morphs and start fighting Drakkon's forces. Doggie then asks Kat what they're dealing with when suddenly Lord Drakkon himself arrives and attacks Cruger, he tells Drakkon that he is a disgrace to his uniform and asks him what he's up to, Drakkon responds by using a Dragon Cannon an taking away the S.P.D. Ranger Powers.
While the Rangers fall back, Kat and Boom tell Doggie that there's a modified version of R.I.C. that is stuck in a hangar that lost power. Cruger tells the B-Squad to trust in their teamates as a member of the C-Squad called Konchu picks the lock of the hangar and let's a super-sized R.I.C. 3.0 free. With this they turn the tide of the battle. The R.I.C. 3.0 then is about to chomp down on Drakkon, making him and his forces teleport away.

COMIC STORY- Mighty Morphin Power Rangers 2018 Annual
Teaming Up
Cruger and his team later answer Zordon's warning and gets recruited in order to stop this giant threat, he then arrives with many other Rangers as reinforcement to the Rangers fighting on the RPM World against Drakkon and his army, though they unfortunately are defeated and forced to return to the Command Center.

COMIC STORY- Mighty Morphin Power Rangers (Boom! Studios) Issue 28
Back at the Command Center, Cruger and the other Rangers are in the pocket dimension discussing the grim situation as the Morphin Grid is beginning to collapse under strain from Lord Drakkon's activities. If they don't stop him soon, all of reality will collapse and be destroyed. Ninjor explains them that Drakkon is planning on going inside the Grid and how their first objective should be to take out the tower. Later Andros crashes into the Command Center and emerges wounded from the wreckage, much to the worry of his sister Karone, telling the other Rangers he has found where the others are being held.
Cruger and Zordon observe the family reunion and are glad that at least a few happy moments are coming out of what seems like an endless wave of defeats. Anubis heard about what happened to Tommy from the others and gives his condolences to Zordon. Zordon says that particular loss weighs heavily on himself, Anubis says that as mentors all they can do is try their best to guide their charges and hope they can make good decisions on their own, but he also adds while that it doesn't feel right to just be okay with losing a team, they cannot control their actions. Zordon agrees and that the Rangers under their care will grow and improve as people by learning from their own mistakes as mentors.
When Jason lays out the new plan, a rescue mission followed by a tactical assault on the tower, Cruger says while that is a good plan, an S.P.D. transport ship won't be nearly big enough to carry them all. Grace then unveils her Promethea complex is capable of going into space, showing a hologram of its entire structure that would later become Terra Venture.

COMIC STORY- Mighty Morphin Power Rangers (Boom! Studios) Issue 29
Asking for help
Cruger later goes with Zordon, escorted by Putties, to Rita's throne room in order to ask Rita Repulsa for help in defeating Lord Drakkon, with Cruger hoping that Zordon's right about this being the right move. Rita Repulsa relishes in Zordon's desperate act for help from her and mocks Cruger saying that they should bring him a choker. Rita at first displays apathy toward their plight but Doggie mentions that the Rita of Drakkon's World was slain by the evil Power Ranger, a fact she seems indignant about. After appealing to her ego, Rita finally accepts their offer for her help.

In Drakkon's fortress, the Tyrannosaurus Sentry guards are zapped by a spell from Rita Repulsa as she, Zordon, Ninjor and Cruger enter the throne room. Doggie wonders why they are here, with Rita explaining that the highest concentration of magic is the place where the user interacts with most, in this case, Drakkon's throne. She then pulls out the Green Candle and places it near the throne as she lights it and begins to cast a spell. Drakkon then teleports into his throne room, only to find Rita sitting in his throne mocking him as he grows weaker and weaker. Suddenly, Cruger and the others are zapped and knocked out by Finster 5, wielding Lord Zedd's Staff. Drakkon then hits a switch which releases all of the morphing energy from the Morphers into him.

COMIC STORY- Mighty Morphin Power Rangers (Boom! Studios) Issue 30 Cruger's timeline was later rebuilt after the Mighty Morphin Team defeated Lord Drakkon.
Video game appearances
Power Rangers Key Scanner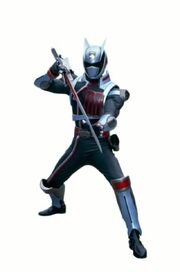 Anubis Cruger as S.P.D. Shadow Ranger, appears in the app videogame Power Rangers Key Scanner, amoung various other Rangers teams.

Power Rangers Legacy Wars
The S.P.D. Shadow Ranger is among the Rangers who feature in Power Rangers Legacy Wars,he is a Legendary (Leader), Legendary (Assist) character, and represents SPD Ranger alongside Kat Manx, Sam and Sky Tate.
Power Rangers Battle for The Grid
Shadow Ranger is an incredibly versatile character. His assist provides for great coverage, tricky setups, and hard to blockables. His normals have standard range and speed, but where he excels the most is with his 5S stance. With the use of his stance and incredible forward dash, Shadow Ranger is a very threatening character. a holistic understanding of the character and how to traverse the game with him.

Personality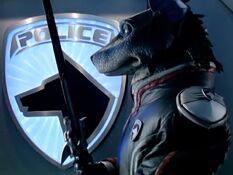 Cruger is often tough and stubborn, but fair and is an overall kind-hearted, brave and noble person. Doggie was extremely dedicated to his duties as part of S.P.D and has little to no time for anything outside of it, and expected the same of his subordinates or in some cases demanded it. True to his years, he contains a lot of wisdom. Although the young Rangers often misunderstand his intentions sometimes. One example was that when he sent the older Sam from the future on scouting missions more than the other Rangers. While the other Rangers saw this as a form of favoritism, Cruger's true intentions were to get Sam accustomed to the current time period since his future was completely different from Cruger's and the B-Squad's present. While Cruger didn't often express his admiration for the B-Squad to them directly, he was shown to regard them very highly, telling Kat Manx they were the best team he'd ever had in "Messenger". When the A-Squad returned, Cruger went back to using them, but likely only out of procedure with Kat reiterating to the Rangers about Cruger's faith in them in the form of his statement to her about them being his best team. Cruger has also shown a willingness to sacrifice himself for the greater good: during the final battle with Omni, Cruger exposed Omni's only weakness even though he knew he likely wouldn't survive. When Kat pointed this out to him, Cruger simply told her "I know Kat" and ordered the Rangers to fire on Omni's weakness without hesitation.
Family
S.P.D. Shadow Ranger
Morph and Roll Call
Ranger Key
The S.P.D. Shadow Ranger Key is Anubis's personal Ranger Key. This key has been used by the Mega Rangers in the Super Mega Cannon on one occasion so far.
Used in the Super Mega Cannon against Redker.
Behind the Scenes
Portrayal
"Attention, Rangers! My name is Commander Cruger, when my planet was attacked by the Troobians, I escaped to Earth. Now this is my last chance to stop them. I am the S.P.D. Shadow Ranger!"
- Anubis Cruger
Cruger's voice is heard in a series of specially filmed profile shorts released by Jetix to promote SPD, prompting his B-Squad Rangers to identify themselves. He also has his own filmed profile short as well.
Notes
Unlike his counterpart, whose color designation was never overtly mentioned, Power Rangers classifies Shadow Ranger as a Black Ranger.
The name Anubis comes from the Egyptian jackal god of the dead and Judge of the Dead, whom he resembles in appearance.
Although the Shadow Ranger (and his Sentai counterpart, DekaMaster) never had a S.W.A.T. Mode in the TV series, a figure of Shadow Ranger in S.W.A.T. mode was released in the Power Rangers S.P.D. toyline.
Unlike fellow non-human Rangers Zenowing (from Dino Super Charge) and Steel from Beast Morphers):

A different suit is used for Cruger in Power Rangers than his Sentai counterpart, while the same suits for Wise God Torin and Beet J. Stag were reused for Zenowing and Steel.
Cruger is part of the opening credits with the other Rangers (this includes both before and after he became a Ranger). This is because John Tui both portrays and voices Cruger, whereas Alistair Browning and Jamie Linehan only voiced Zenowing and Steel respectively.
Appearances
See Also
References