"I'm sorry, Rangers, but we simply do not have enough information to proceed."
This article is a stub, meaning it needs more information to be a full article. You can improve this RangerWiki article by expanding it if more information is available. If you believe this article to be a dead stub, it may need to be deleted in accordance with the Style Guide.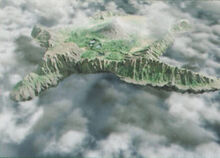 The Animarium is a huge turtle-shaped island that used to be part of the Earth a thousand years ago and is where the Power Animals that have been found reside.
The Gaorangers operate on a separate small floating island shaped like a smaller turtle that is known as Gao's Rock.
In the finale, Tetomu and the Power Animals ascended from the Earth on the Animarium. The Animarium remains in the sky, where Tetomu and the Power Animals wait for the day they are needed again.
See Also
Community content is available under
CC-BY-SA
unless otherwise noted.