Andros is the Red Space Ranger and leader of the Space Rangers and the older brother of Astronema/Karone. He is a human from a space colony KO-35, and possesses telekinesis. When the Turbo Rangers left the Earth after their Command Center was destroyed, Andros found them and (after some convincing) gave them the other four Astro Morphers. Andros is the first Red Ranger to gain a Battlizer.
Retroactively, he is also referred to as Space Red Ranger or In Space Red Ranger- variations on his in-show labels, though the latter is more in reference to the show itself than a proper label.
History
Early Life
Childhood
When Andros was a child, his sister, Karone, was kidnapped by Darkonda. Andros made it his goal to find his sister. As a teenager on KO-35, Andros and his best friend Zhane joined the army of KO-35 in hopes of one day being Power Rangers.
Life as a Ranger
Later being chosen by the great sage Zordon, Andros and Zhane became the galaxies first space rangers, they were given a space ship like command center, the Astro Megaship and four other Astro Morphers to choose 4 other Rangers. After becoming the Red Space Ranger, he and Zhane, the Silver Space Ranger, teamed up to defend the galaxy, on the request of the sage, Zordon.
When Dark Specter attacked KO-35 with his army, Andros and Zhane fought against the army but they were relentless and too many. Andros decided to attack one of Dark Specter's monsters but he was knocked down, however, right before he could be beaten, Zhane intervened and took the blow for Andros, leaving him mortally wounded. Andros then kept Zhane alive by freezing him in a cryogenic tube inside the Astro Megaship, hoping it would heal him though he didn't know how long that would take.

TV STORY-Survival of the Silver
In Space
Searching for Zordon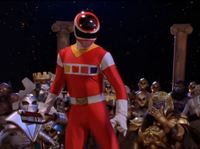 Two years after Zhane's accident and after his mentor Zordon was captured by Dark Specter, Andros went disguised on a cloak to the Cimmerian Planet and assisted a gathering of the United Alliance of Evil. When Astronema suggests that he's a spy during the gathering, Andros starts a fight, with Goldar removing his cloak and revealing his Ranger suit to the rest of the villains, Dark Specter demanded his capture as he had heard everything during the gathering. Before he can be stopped, Andros calls on his Galaxy Glider to escape. Rita and Divatox compete over who will be sent to capture him, but Dark Specter chooses Astronema instead. She is given the Dark Fortress, a powerful space ship, and is sent off to capture him.

TV STORY-From Out of Nowhere
Meeting the Turbo Rangers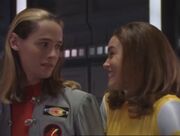 After the Turbo Rangers Theodore Johnson, Carlos Vallerte, Ashley Hammond, and Cassie Chan left the Earth after the Power Chamber and their powers had been destroyed, they accidentally boarded the Megaship. Andros found them, first mistaking them for intruders, though he fixes Alpha 6's voice circuitry allowing him to speak again with a voice more closely matching that of Alpha 5. After some convincing, he gave them the other four Astro Morphers to become Space Rangers. In their first battle, Andros and the others managed to combine the Astro Megaship with the Astro Megashuttle, forming the Astro Megazord. Andros became the leader of the team and their mission became to find the missing Zordon and protect Earth from Astronema. Sometime later, he developed a relationship with Ashley through the series.

TV STORY-From Out of Nowhere
Zhane's survival
"His name is Zhane, he's the Silver Ranger. He's my best friend."
―Andros on Zhane[src]
Andros and the other Rangers are collecting samples of native plants on a planet they have landed on but they are attacked by the natives that exist on the planet. The aliens damage the Megaship while they escape in it, making it almost crash, but luckily the Rangers were able to temporarily fix it. After the internal repairs were done, the other Rangers find the cryogenic tube where Zhane was kept. Andros explains to the team who Zhane was and why he is frozen.
Later, an egg hatches inside the Megaship and turns into a monster, after they seal it away from the ship it does more external damage, causing them crash land back in Kadix. Andros and the other start to fight the native Kadix as well as the monster. During the fight there is malfunction in the healing chamber, causing the cryogenic tube that is holding Zhane to stop working. Andros falls to his knees in agony when a flat line is heard in Zhane's healing chamber. Angry and filled with rage, he charges straight into battle with twice the amount of speed, energy, and aggression. As the other Rangers are being beaten up by this monster, Zhane's flat line stops and a healthy heartbeat is detected.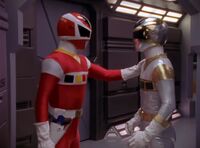 Zhane wakes up, gets rid of the natives and destroys the monster that was beating up the other Rangers, much to Andros' surprise. When the Kadix monster grows large size, Zhane is surprised that the Astro Megaship can turn into a Zord, and he is in delight when he sees the Delta Megaship being used and piloted. Andros then introduces Zhane to the other Rangers and express relief that he is alive and well.

TV STORY-Survival of the Silver

Later adventures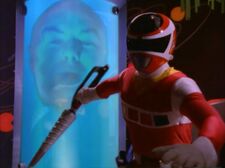 He managed to convince her to change her allegiance, but she was captured again and brainwashed. In the final battle, Andros boarded Astronema's Dark Fortress and discovered Zordon, who had been missing since the beginning of the series. At Zordon's insistence, and much hesitation, Andros shattered Zordon's energy tube, which destroyed him and released a wave of energy that destroyed the army attacking the universe. This act also freed Astronema of her brainwashing, and he was reunited with his sister again. In the final scene, Andros ultimately chose to return with his fellow Rangers to live on Earth, and not stay on his homeworld.
Lost Galaxy
The Return of the Psycho Rangers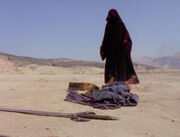 Andros worked on tracking down the cards that contained the Psycho Rangers on an unknown alien planet, however Andros while cloaked walks up to the burning remains of the strange creature and notes the opened box, lamenting that he's "too late". He tracked the Psycho Rangers to Terra Venture where they had been returned to their original forms. He saved Leo from Psycho Red and takes him away to safety. He reveals himself to be Andros, the legendary Red Space Ranger, in the Megaship, Andros meets Mike and reunites with Alpha. Andros recovers his Astro Morpher and plans the next attack with the Corbett brothers. He and Leo bust into the warehouse where the four Galaxy Rangers are being held. They lure the Psycho Rangers outside to battle, when Magna Defender sneaks in and frees the four Galaxy Rangers and the four remaining Space Rangers have appeared,
ready to help. Everyone morphs, he fought Psycho Red alongside Leo Corbett, his Red Ranger successor and the Red Galaxy Ranger, Andros and the other Space Rangers whip out the Spiral Saber Booster Mode and Quadro Blaster and fire at the Psycho Rangers. The Galaxy Rangers follow it up with an Orion energy attack. The team celebrates back at the Megaship with Alpha revealing that he called Andros and the others to help out. The Space Rangers decide to stay for a while and see the sights on Terra Venture.

TV STORY-To the Tenth Power
Psycho Pink's Revenge
The Galaxy Rangers show off the Galactabeasts to their new friends, the Space Rangers. Cassie tries to dance on the Wildcat Galactabeast's head and gets kicked out because of her trouble. Kendrix Morgan radios the Rangers for
help, but the appearance of Deviot, Villamax, and some Stingwingers slow them down. As the remaining Space Rangers, including Andros and the Galaxy Rangers, fight them off and learn that Psycho Pink's plan has succeeded, Andros and the other Rangers immediately leave for Rashon. The Astro Megazord and Galaxy Megazord finish off Psycho Pink with a powerful slash from each of her swords. The Rangers arrive but it is too late. As the storm recedes,
they are greeted by her spirit form, who tells them that she will always be with them. The spirit disappears and the Pink Quasar Saber flies through the sky to places unknown, the time has come for the Space Rangers to go. Cassie is still heartbroken over Kendrix's death, but Andros tells her that she sacrificed her powers to save the Astro Morpher for her. She sadly says goodbye and they fly away in their Galaxy Gliders.

TV STORY-The Power of Pink
Andros is seen in a flashback of his childhood with his sister Karone until Darkonda kidnapped her on KO-35. Eventually Karone blames Darkonda for being the reason she became Astromena.

TV STORY-Facing the Past
Andros is seen again in a flashback by Damon and Leo, remembering the Psycho Rangers were the worst enemies. Even though they survived their attack with help from the Space Rangers, the memory of losing Kendrix comes as a bitter reminder of the danger they face, even as Karone continues to fight in her stead.

TV STORY-Until Sunset
Wild Force
"Hey, I saved two worlds! What about that?!"
―Andros[src]
Andros then began tracking down the remnants of the Machine Empire and Serpentera, discovers Venjix and finds out about his plan after following him for several years. Andros goes to the moon to gather video evidence of their plans. He succeeds and sends the tape to Tommy Oliver, also Andros coordinates with Tommy to recruit eight other Red Rangers to stop the Machine Empire.
All the Red Rangers are reunited in the NASADA's space port, where Andros first meets Carter Grayson, Wesley Collins, Eric Myers, and Cole Evans the currect Red Ranger, when Jason Lee Scott the original Red Ranger pulls up to the group on a motorcycle.
Andros and the other Red Rangers board the Astro Megaship Mark II, during the travel to the moon Andros contacts Leo and Aurico from Mirinoi and Aquitar respectfully. On the moon, Venjix and his other generals prepare to board Serpentera but they are then interrupted by the Red Rangers. Venjix sends Cogs to distract the eight Rangers while he and the others proceed to Serpentera. Andros do battle with the Cogs unmorphed and dispose of them with relative ease, Cole is rescued by Leo and Aurico on Leo's Jet Jammer. As the other Rangers catch up, Leo unmorphs and tells Andros that he and Aurico had gotten there as soon as they could. Venjix and the other Generals then arrive and are shocked to see ten Red Rangers before them.
All of the Rangers then morph with their respective calls (except Aurico, who never appears demorphed) and do battle with the Generals in groups of two, Andros and Carter fight Steelon and destroy him by combining power from their Astro, Rescue, and Thermo Blasters, Venjix then jumps into Serpentera and takes off.
With no time to get to the Ship before it takes off, Andros and the other Red Rangers rely on Cole with his Wild Force Rider to battle Venjix. Both Venjix and Serpentera are destroyed for good, truly ending the Machine Empire menace once and for all. Afterwards, the nine human Rangers part ways, and Cole remarks how Tommy appeared to be the "greatest Ranger ever" with the other Rangers bragging of their exploits.

TV STORY-Forever Red

Trial of Astronema
"Look, I'm sorry you're mad, but I am not going to apologize for saving your life."
―Andros to Karone[src]
His sister Karone is eventually put on trial in front of a multitude of alien races to face the consequences of her old crimes as Astronema. When the prosecutor asks how Karone would like to plead, Andros, as well as Maya and Leo interrupt the hearing to plead on her behalf. Andros brings out the abduction of his sister against her will as a response, but a judge dismisses this as he believes that the famed "heroes" know as the Power Rangers have lied about the "death" of Astronema and have been harboring a fugitive criminal.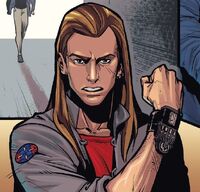 This leads to a wild accusation by the judge that potentially other criminals are hidden in their custody. Andros rejects the accusation and tells the court that Astronema died in the final battle and his sister is innocent. Realizing this Karone was taken against her will and has no legal defense, the three Rangers decide to act as defense witnesses and legal defense representatives.
When different alien races start giving their testimony as victims of Astronema, Andros tells the court that Karone was taken as a child, sold into slavery and later brainwashed into being evil to serve Dark Specter. Saying she had no control over her actions and was just an innocent girl warped by evil into a different person and they had freed her from that evil influence. After the evidence is put against Karone, the prosecutor calls for a recess and for the jury to deliberate on a verdict. In a waiting area, Andros and Leo think that some evil force is setting Karone up but this angers Karone as she knows she is guilty and trying to make excuses for her crimes is pathetic.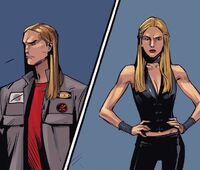 The recess ends and the head judge says that the weight of Karone's acts of tyranny and cruelty are too vast to lighten the decision of the jury. Before the judge can proclaim the verdict, Astronema appears while Karone is standing in the courtroom, with Andros claiming that the Z-wave in the final battle split Karone and Astronema into two separate beings and the evil half is responsible for all the crimes and thus his sister is innocent. The panicked crowd go into a murderous frenzy and Astronema battles them while the Rangers escape to the Astro Megaship with Karone in tow.
As they leave they see Astronema die on the view screen at the hands of a security team and be vaporized. Andros explains that he used a hard light hologram program to create a "real" Astonema so the people have their justice and Karone can have her freedom. Andros is then smacked by his sister in furious anger for taking away her choice to accept her punishment for all the pain she caused. Andros thinks she is crazy as those people would have killed her and it wasn't fair for them to punish her for what Astronema did. A heartbroken Andros is then escorted out the bay doors by Leo and the shuttle departs from the Astro Megaship.

COMIC STORY- Mighty Morphin Power Rangers Anniversary Special Issue 1
The Psycho Path
Some time after the trial, Karone told Andros that she wanted to be by herself and left to reconcile with her past, she went back to KO-35 though Andros wasn't aware of that. Andros learns from Zhane that the Psycho Rangers returned along with a new member and they left with Karone after she went willingly with them. Andros believes she choose to go with the Psychos in order to protect the people from KO-35, but later starts to wonder if she gave up after trying to confront a life of destruction and villainy. Ashley says they'll going to patrol with the rest of the team but Andros tells her that while they do that he'll go search for her sister alone.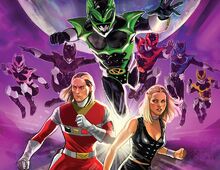 Andros along with Zhane visit KO-35 to look the state of the planet, seeing the destruction that the Psychos causes as well as the remains of his childhood home. Zhane realizes that after the fight on KO-35 the Psychos didn't leave any trial of destruction. Andros started maintaining a log on his current mission in order to keep his search organized, looking for his sister across Dark Specter's old facilities for a whole month, believing that the Psychos were behaving very strangely due to their minimal impact but he knows that they are looking for Dark Specter's secret weapons laboratory and hopes to find it first.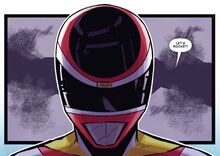 Once he found the Psycho mothership, Andros transferred the coordinates to his team, morphed and went to rescue his sister alone despite Alpha's pleas. Andros starts attacking Trek, who calls the rest of the Psychos, and finds Karone, after the two escape Karone tells Andros everything she had accomplished in trying to reform the five main Psycho Rangers, but Andros doesn't believe they deserve redemption after what they did.
After a discussion, Andros agreed to help Karone right as his team started attacking the mothership, the two siblings went to Psycho Green's secret lab but Andros later revealed that he wanted to destroy the data cards to ensure that the Psychos never return, Karone then attacked Andros until he fell unconscious. Karone brought Andros to his team after defeating Trek and letting the Psychos go, after the fight Andros lied to his team about the fate of the Psychos but later tells Karone that he feels betrayed by her due to everything she did.

COMIC STORY- Power Rangers: The Psycho Path
Dino Thunder
"Andros proved he was more than a friend, he was just the kind of leader they would need to fight a new enemy."
―Tommy Oliver on Andros[src]
Andros was featured in a chronicle of Power Ranger history compiled by Tommy Oliver shortly after he formed the Dino Rangers, which was found by the nascent Ranger team in the Dino Lab.

TV STORY-Legacy of Power

Megaforce
Andros along with the other Space Rangers and other Ranger teams are seen in Troy's premonition about the Legendary Battle.

TV STORY-Mega Mission
He and the other Rangers are seen again in another of Troy's dream/vision about the Legendary Battle.

TV STORY-Stranger Ranger
Super Megaforce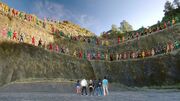 Emperor Mavro was defeated, but the remaining thousands of X Borgs still stand. Tommy gathered all the existing Power Rangers, Andros returned with his fellow Space Rangers as part of the army of Legendary Rangers led by Tommy that helped the Mega Rangers to defeat the Armada once and for all, fighting in a huge battle against hundreds of X Borgs and dozens of Bruisers. After the demise of the X Borgs, Tommy shook hands with Troy and teleported off along with Andros and the Legendary Rangers.

TV STORY-Legendary Battle
Beast Morphers
Andros was shown in archive footage, along with Zhane and the other Space Rangers in Scrozzle's database, when the villains were looking for a past villain to revive with the Reanimizer, and came across Astronema and Psycho Red.

TV STORY-Making Bad

Dino Fury
Solon explains to Ollie that the Mighty Morphin Rangers never defeated Lord Zedd according to her. Ultimately, Andros is briefly seen in a flashback via the Legendary Ranger Database, during his final battle against Ecliptor and Astronema and later after that, Zordon's sacrifice sent the Z Wave across the universe and purged the evil around it.

TV STORY-Unexpected Guest

Split History
Shattered Grid
Andros was seen trying to fight off Lord Drakkon after he boarded the Megaship with a squad of Ranger Sentries. He was having a verbal bout with T.J. about the lack of things to do on the Astro Megaship. He asserts his leadership by telling T.J. to fix something in the ship while the rest retire. Drakkon attacks all of a sudden and gains the upper hand. Andros later crashed a ship at the Command Center claiming that he knows the location of the captured Rangers, reuniting with his sister, Karone. He took part in the rescue mission to Lord Drakkon's fortress, and was subsequently aboard the Promethea when it was removed from the dimension. Andros somehow manages to escape the attack, after Drakkon captures T.J. and kills the other Space Rangers.

COMIC STORY- Mighty Morphin Power Rangers 2018 Annual
He manages to arrive into the Mighty Morphin' pocket dimension, where he informs all of the Rangers at the Command Center of the location of Drakkon's prison, where he's holding all of the captured Rangers. Andros then meets with Future Karone, who was saved by Andros' future-self, and now one of the Galaxy Rangers and has a brief moment with her, embracing her in his arms, grateful that she's ok.

COMIC STORY- Mighty Morphin Power Rangers (Boom! Studios) Issue 29
After having his Morpher reinforced by Doctor K, Andros took part in a mission to Lord Drakkon's fortress to rescue captured Rangers, and was subsequently aboard the Promethea when it was trapped in an unknown dimension known as "The Void".

COMIC STORY- Mighty Morphin Power Rangers (Boom! Studios) Issue 30

COMIC STORY- Mighty Morphin Power Rangers: Shattered Grid Finale Issue 1
Beyond the Grid
Trapped on the Promethea for over 4 weeks, Andros engaged in a mission with other morph-capable Rangers to find life aboard on an unknown vessel and then find a mysterious Ranger who stole power from Promethea.

COMIC STORY- Mighty Morphin Power Rangers (Boom! Studios) Issue 32
Engaging with the Praetor's forces in an energy construct, the Praetor looks into Andros's mind and heckles Andros about his relief that Karone is safe, despite the tragedies surrounding the other members of Promethea.

COMIC STORY- Mighty Morphin Power Rangers (Boom! Studios) Issue 34
Omega S.O.S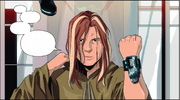 After the events of Shattered Grid, the timeline was changed with the introduction of the Omega Rangers. Following the attack on KO-35, Andros watched as the Omega Rangers sent a signal across the universe promising help to various civilizations and a warning to any threat to them.

COMIC STORY- Power Rangers (Boom! Studios) Issue 17
Later, after receiving a distress signal, Jason, the Red Omega Ranger, and Yale, the Blue Omega Ranger, investigated the aftermath of Dark Specter's attack on Andros' homeworld. They would encounter a band of Xurix hired by Darkonda to find Andros and fight them. When one of the Xurix tried to flee the fight, Andros shot him with a laser pistol. Andros was quick to tell them that they had to get going, but Jason ordered him to reveal himself, which led him to show his face and Astro Morpher.

COMIC STORY- Power Rangers (Boom! Studios) Issue 18
Video game appearances
Power Rangers Key Scanner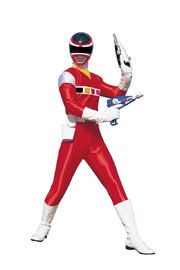 Andros as Red Space Ranger appears in the app videogame Power Rangers Key Scanner, among various other Rangers teams.

Power Rangers Super Megaforce: Legacy
Andros as Red Space Ranger appears only usable for Final Strike in the videogame Power Rangers Super Megaforce: Legacy, among various other Rangers teams.

Power Rangers Legacy Wars
Andros as the Red Space Ranger, is a playable character in Power Rangers Legacy Wars, he is a Rare (Leader),Rare (Assist) character, also represents Space Rangers, alongside T.J, Cassie and Zhane.

Personality
Andros is an unsociable loner, preferring to do things by himself. His time alone in space, his loss over his sister and parents, and his difficulty to understand Earth culture had made him distant from other people and can lead him into difficult situations due to his inability to tell good people from bad. Despite accepting help from other people, he may resent the need to do so at times. Overtime, after being part of a team with his fellow Space Rangers, he became more social and learned to rely on his friends in difficult situations. The only thing he works alone on afterwards is spying and recon, something only he is skilled at.
Despite these potential flaws, Andros is a brave and kind-hearted hero who, more often than not, puts other people's needs before his own. He is always willing to sacrifice his life to save millions of people from the forces of evil.
Official description
The Red Power Ranger was born in a distant galaxy on the Space Station KO-35. He is dedicated to defending the galaxy from evil and finding his long-lost sister. Andros is incredibly loyal, committed, resourceful, disciplined, and independent. He has single-handedly manned the Megaship since his best friend, Zhane, the Silver Ranger, was critically injured. When his true relationship to Astronema is revealed, he will struggle with his past and hurtful family issues will surface. [1][2]
Powers and Abilities
Powers
Telekinesis: Andros often moves objects with his mind, just as his friend Zhane.
Voice Masking: Andros is shown to be able to disguise his voice when he gathered information on Karone's, now known as Astronema, whereabouts after learning Darkonda kidnapped her.
Abilities
Hand-to-Hand Combat: Andros is very skilled in hand to hand combat as a ranger. By the time of Lost Galaxy, his hand to hand combat skills had improved to the point he could fight Psycho Red unarmed while the latter had his Psycho Sword, even if for a few seconds. In The Power of Pink, he was seen performing well in the unmorphed battle against the Stingwingers while Leo Corbett and Kai Chen initially struggled, despite the two having more experience dealing with the said foot soldiers.
Spying: Andros is the most skilled spy in Power Rangers history, having been able to infiltrate places not welcoming of a Ranger on at least three separate occasions, usually wearing a dark crimson hooded cape. The last example of which, he spent years tailing the enemy with them apparently not knowing about him spying on them until his very last spying on them. Combined with his Galaxy Glider on call awaiting his orders to arrive, Andros has an escape route/plan that is practically fool proof.
Reconnaissance: Stemming from his spying skills, Andros is able to spy on enemies from afar or up close without getting caught until he's obtained a decent amount of information.
Family
Mother (mentioned)
Father (mentioned)
Karone - Younger Sister
Ranger Forms
Powers and Abilities
Powers
to be added
Attacks
Abilities
to be added
Weaknesses
to be added
Arsenal
Vehicles
Zords
Appearances
: PRIS Episodes 1-43, LG Episodes 30, 31, WF Episode 34, SM Episodes 20 & LBEV
The Red Battlized Armor is used by Andros (Red Space Ranger) to turn him into the Red Battlized Ranger, pressed the 03 button on the Battlizer device. Andros, now armed with the Battlizer, However, the Battlizer was easily defeated by both Ecliptor and Darkonda in the Season Finale. Andros later used the Battlizer to fly to Astronema's fortress.
Powers and Abilities
Powers
to be added
Attacks
to be added
Abilities
to be added
Weaknesses
to be added
Arsenal
Appearances:
PRIS Episodes 38, 40-43
In Five of a Kind, Andros, along with Carlos, Ashley, and Cassie, disguised themselves as the Blue Space Ranger in an effort to fool Psycho Blue.
Powers and Abilities
Powers
to be added
Attacks
to be added
Abilities
to be added
Weaknesses
to be added
Appearances
: PRIS Episode 34
Powers and Abilities
Powers
to be added
Attacks
to be added
Abilities
to be added
Weaknesses
to be added
Arsenal
Zord
Morph and Roll Call
Legendary Ranger Devices

The Red Space Ranger Key is Andros's personal Ranger Key. This key along with the majority of the Core Ranger Keys are seen lining the Command Center's interior walls. This key is mainly used by Troy Burrows (Super Megaforce Red) who uses it to fight as the Red Space Ranger.
The Red Space Ranger is one of the Rangers that represent the Space Rangers for the In Space Dino Charger, released as part of Dino Charger Power Pack Series 3 with each charger depicting four pictures. In Space's case, it featured the Red Space Ranger, the Silver Space Ranger, the Astro Megazord, and the In Space title. This Charger was paired with the Lightspeed Rescue Dino Charger.
"Legendary Red Star! Activate!"
―announcement in the DX Ninja Battle Morpher
The Red Space Ranger Ninja Power Star is a special Ninja Power Star & is marked with the kanji for "red". This star is exclusive to the Ninja Steel toyline.
Behind the Scenes
Portrayal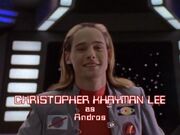 Concept Art
Andros' Red Solar Ranger outfit was designed by Simone Di Meo.
Andros/Red Space Ranger's concept art was designed by Guiseppe Gafaro and colored by Marcelo Costa.
Notes
Appearances
See Also
References