Boba Fett Returns - The Loop
Play Sound

This article is about a/an writer in the Power Rangers franchise.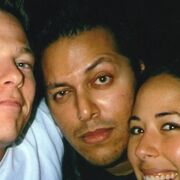 Amit Bhaumik is a television writer best known for his work on Power Rangers Wild Force, which he story-edited for; he also wrote three episodes for the season. Two of them, a two part story, served as the team-up between the Wild Force Rangers and the characters from the previous season, Power Rangers Time Force. The third script was the tenth anniversary crossover special Forever Red.
Before the sale to Disney, Bhaumik was going to work on Power Rangers Ninja Storm (under the working title of Ninja Force), with Tommy leading a Ranger organization (along with new recruits using the Wind Ranger suits) and a rebellious Jason leading the opposing Thunder Rangers, with both of these new teams using powers that would somehow have been derived from Ninjor, who would likely have been a recurring character in that season. Some details about the plan were revealed on Bhaumik's Tumblr account, including the creation of a massive Power Ranger organization known as "Hexagon" of which Tommy would have been the leader, taking on a role akin to that of a hands-on Zordon. Ultimately, the team-up season idea was scrapped, and the series continued to change its cast, suits, and Ranger power themes with each season.
Prior to his work on the series, Bhaumik was a significant contributor to the Power Rangers fanbase, putting together a popular website known as the Power Rangers Online Archives, which served as a large depository database of Power Rangers characters, events, and episodes. He also collaborated on the Scorpion Rain hoax: established fans pretending that Australia had produced a cheap, five-minute Zeo/Turbo transition, involving Serpentera. (As an in-joke, he made nods to the film in "Forever Red")
Since departing the series in 2002, Bhaumik visited the fandom less frequently in person, though resurfaced to commentate on his dissatisfaction with the series under Disney.
When the show was sold back to Saban, Amit was asked to work on the show again and drafted up a rough proposal for a Samurai Sentai Shinkenger adaptation.[1] This went unused (though both Amit's pitch and Power Rangers Samurai have the return of Bulk) but he would write the clip-shows "Party Monsters" and "Christmas Together, Friends Forever", and the episode "Stroke of Fate". He has since left the show again. On his tumblr, he has expressed dissatisfaction with the series back under Saban, complaining that "[the option] to disregard all continuity altogether seems to have been pursued"; before leaving the show, he had an unpitched proposal for a Tokumei Sentai Go-Busters adaptation designed as a continuity-heavy "chance to repair the neglected continuity of the franchise into one continuous universe again".[2][3] Humorously, this proposal known as Power Rangers: Cyber Corp would've been a sequel to RPM and had Venjix be connected to a another villain, which ended up coming to pass in the final version of the Go-Busters adaptation.
His Hexagon and Samurai pitches have both been made public, but have been criticized for having been edited after the fact. Older fans who saw the original Hexagon notes have said major plot points were unmentioned or changed, including changing the identity of the Navy Thunder Ranger and Green Samurai Ranger.[4] Den of Geek argued that since Bulk wasn't part of the original Samurai casting, "the inclusion of Bulk especially seems to be a, "Hey! See! I actually used him unlike [filmed] Samurai!"" instead of a real older plan. [5]
See also
References