Wiki Targeted (Entertainment)
Play Sound
Aladonian Gyanjava (アラドン星人ギャンジャバ, Aradon Seijin Gyanjaba, 38):
History
A serial bank robber who killed Falufian Yaako's parents so he could utilize her natural abilities to manipulate locks. He enlisted the help of Agent Abrella to help access the DekaBase's systems but Yaako betrays him to the Dekarangers which allows them to lure him out. He reveals that he murdered her parents to use her whereas he told her that they died in a crash. Before Gyanjava can move bases to avoid capture however, four Dekarangers blast thier way through a wall since Yaako had revealed that he was based in the top floor of the bank he wants to hit. Surprised by the confrontation, Gyanjava summons Muscle Gear purchased from Abrella and teleports to the safe only to be confronted by Tetsu. He does battle but is not match for DekaBreak and is ejected from the building and the Dekarangers overwhelm Gyanjava in thier SWAT Mode. However, as Houji is about to pass judgement, Gyuanjava stuns them with an energy blast so he can take control of the 4th version of Heavy Industrial Machine Cannon Gladiator and tries to crush them underfoot only to be blasted away by DekaBike. Even then, Gyanjava manages to match DekaBike Robo move for move until being wiped out by the Sonic Boom. Tetsu then judges Aladonian Ganjava for three thousand bank robberies, murdering Yaako's parents. and enslaving her to further his p;ans. As Judgement is passed, Ganjava puts his feet up and casually puts his arms behind his head only to be judged guilty. Aladonian Gyanjava tries to back away and escape but DekaBase Robo cuts him off and Gyanjava has to flee from Cannon Gladiator as DekaBase Robo's Volcanic Buster destroys it. He escapes onto the ground only to be confronted by Banban and Yaako with the former transforming into SWAT Mode. Yaako destroys his Muscle Gear with her powers and confronts him for his actions so he tries to kill her with his sidearm just for it to be deflected by Banban's bulletproof vest. Aladonian Gyanjava is then deleted by Banban's D-Revolver.
Personality
Aladonian Gynajava was a psychopathic bank robber perfectly happy to casually murder people to further his own goals.
Modus and Arsenal
Aladonian Gynajava was a very skilled bankrobber and thief. He was also equipped with a blaster but only used it as a last resort weapon.
Behind the Scenes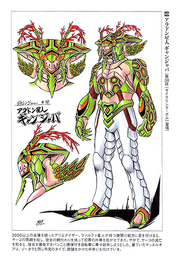 Aladonian Gyanjava's home planet name was derived from Alain Delon.
His name is a pun on the name "Jean Gabin".
External Links
See Also
References
Community content is available under
CC-BY-SA
unless otherwise noted.