The Epic Glue Battle (接着大作戦, Setchaku Daisakusen) is the thirty-seventh episode of Samurai Sentai Shinkenger.
Synopsis
Ryunosuke and Chiaki must learn to work in sync to defeat a Gedoushu that can shoot a gooey substance.
Plot
Responding to a Gedoushu attack, the Shinkengers encounter the Ayakashi Mochibetori. During the fight, Shinken Blue and Shinken Green get their hands glued together by the Ayakashi before Shinken Gold drives him off. After a few attempts to cut the glue off, the Shinkengers realize that defeating Mochibetori is the only way to separate Ryunosuke and Chiaki. Though the two men attempt to prove that they are able to fight in light of the literal sticky situation, they are told to stay behind. While Ryunosuke and Chiaki eventually get along, the others train to deflect Mochibetori's glue until the Ayakashi returns to glue every person he comes across to something or to each other. Following the others, Ryunosuke and Chiaki watch their teammates fall into Mochibetori's trap. With Ryunosuke following Chiaki, the two transform and manage to slay Mochibetori, negating the Ayakashi's glue. Daikaioh and Mougyudaioh arrive to hold back Mochibetori with DaiGoyou's support before they destroy him. Soon after, Ryunosuke and Chiaki are treated to an all you can eat buffet, unaware of how in synch they became from the ordeal.
Cast
Guest Cast
Notes
Home video releases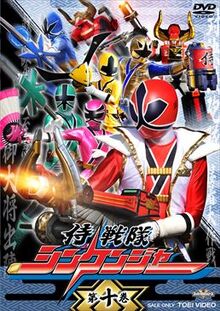 Samurai Sentai Shinkenger DVD Volume 10 features episodes 37-40: Act 37: The Epic Glue Battle, Act 38: The Gunnery Showdown, Act 39: The Very Urgent First Aid Emergency and Act 40: The Honorable Leader Heads to the Front Lines.

See Also